The Edwards Trace was the main route from the Kaskaskia area in southern Illinois to north of present-day Peoria, apparently beginning in prehistoric times. When European colonists moved into Illinois, the trail also became their preferred north-to-south route through the state, passing through Sangamon County.
From Kaskaskia, researcher David Brady has found, the trace went through the present-day areas of Cahokia, Edwardsville, Springfield, and Elkhart before swinging northwestward to Peoria.
Historian Robert Mazrim discussed the growing recognition of the importance of the Edwards Trace in his The Sangamon Frontier: History and Archaeology in the Shadow of Lincoln. Mazrim said the earliest reference he found to travel on the trace was a journey by a Jesuit priest, Rev. Gabriel Marest, from Kaskaskia to Michigan in 1711.
While our understanding of prehistoric settlement patterns in the uplands is still in its infancy … there is circumstantial evidence that there was a band of activity across central Illinois that resembled activity normally found in the river valleys. It is almost as if the Edwards Trail corridor was the equivalent of a river channel, passing across the upland prairies, with these sites situated on either shore. While much more survey of the uplands beyond the Edwards Trace corridor is needed, it certainly seems possible that the general route followed by Father Marest in 1711 is not 300 years old but 3,000. And that old way crossed through the heart of the Sangamo Country.
The trail, known at first as the "Old Indian Trail," got the name of Edwards Trace during the War of 1812, when then-territorial Gov. Ninian Edwards led a band of "rangers" along the trace to Peoria, where the group attacked and burned a Kickapoo village, killing two dozen warriors.
Because it was so heavily used, parts of the trace became worn down, and some of those depressions remain visible today. A historic marker near Lake Park in Springfield draws attention to such a spot.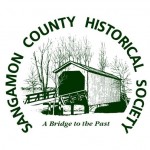 More information: Zimri Enos, whose family brought him to central Illinois at age 2 in 1821, wrote one of the most important pioneer descriptions of the trail. It was published in the Journal of the Illinois State Historical Society in 1911.
Original content copyright Sangamon County Historical Society. You are free to republish this content as long as credit is given to the Society. Learn how to support the Society.