Dr. Garrett Elkin, who moved to Sangamon County from Kentucky in 1823, "was a man of considerable courage," serving for six years as county sheriff and in the Black Hawk, Mormon and Mexican wars, according to the History of Medical Practice in Illinois Volume I, compiled by the Illinois State Medical Society.
While sheriff, Elkin became embroiled in a bitter 1837 election for county probate judge between A.G. Henry, the Whig candidate, and Democrat James C. Adams. After the Illinois Republican, the Democratic newspaper, published an article attacking Henry, Elkin, a fellow Whig, canceled his subscription to the paper. Historian Paul Angle reported the denouement in Here I Have Lived: A History of Lincoln's Springfield, 1821-1865.
The Republican retaliated by printing some uncomplimentary remarks about Elkin. Elkin demanded the author's name, and when it was refused, took out his spleen on George R. Weber, the editor, with a horsewhip. As soon as Weber's brother learned what had happened he armed himself with a knife, found Elkin and a friend named Cutright and stabbed them both. Attackers and attacked were placed under arrest, but the newspaper war continued until the following notice, addressed to John B. Weber, appeared in the Journal: "Sir: In the last Republican you have made false statements about myself. You state, too, that you will maintain those statements 'any where and in any way.' I fully understand this information; and now inform you that your proposition is accepted. Call on me either personally or otherwise and the proper arrangements shall be made. It will soon be seen whether your 'honor' is a more valuable material than your 'statement of facts.' D. Cutright." Weber declined the challenge.
Elkin lived on the southwest corner of Sixth and Adams streets in 1828, according to John Todd Stuart's 1881 memoir. The site is No. 37 on the reconstructed map of 1828 Springfield.
Elkin moved to Bloomington in 1844.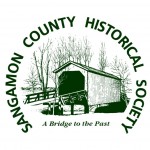 Original content copyright Sangamon County Historical Society. You are free to republish this content as long as credit is given to the Society. Learn how to support the Society.