The Enos Flats, built in 1892, are the oldest remaining example of a multi-family dwelling in Springfield, according to Fever River Research's architectural survey (1997, revised in 2005) of the Enos Park neighborhood.
The buildings, at 716-24 N. Fifth St., consist "of five two-story units, each of which — while sharing an adjoining wall — were essentially independent of one another and might easily be described as row houses or townhouses," the survey said. "… Enos Flats appears to represent traditional middle nineteenth century row houses converted into multi-family flats during the late nineteenth century."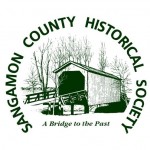 Original content copyright Sangamon County Historical Society. You are free to republish this content as long as credit is given to the Society.