One of the earliest but least known settlements in Sangamon County was the community of Fancy Grove. Located along the headwaters of Fancy Creek about three miles southwest of Williamsville, Fancy Grove was unique in that most of its residents consisted of families from the state of New York.
One of those residents, Stephen Stillman, is credited with naming both the Grove and  Fancy Creek. Rather than being a platted town or village, Fancy Grove was a collection of farms. The Stillman family — consisting of the mother, Abigail, along with her sons, Stephen and Isaiah, and a daughter — arrived in Sangamon County in the spring of 1820, when it was a part of Madison County. James Stewart, who was married to Roxanna Stillman, arrived in Sangamon County in 1819, but joined the Stillmans upon their arrival.
Another large family from New York, the Phelps family, also arrived in Fancy Grove in 1820. Stephen Phelps had served as a judge in his native state and migrated west with his sons and daughters to the Illinois frontier. One son, Alexis, purchased land just south of the Grove.
The last family group consisted of three men who were related through marriage: Charles Boyd, John Dixon and Oliver Kellogg. Boyd and Kellogg were married to sisters of John Dixon, and Dixon was married to a sister of Boyd's. Boyd and Dixon were tailors in New York City who struck out for Illinois in 1820.
A few businesses along with a post office were established in the early 1820s. William Hamilton and Enoch March brought in a load of store goods in 1821 and sold them to Myron Phelps in 1822. Phelps ran the store for a few years. Matthew Harburt built a cabin for customers to stay in while waiting their turn at the mill and a horse mill. (A horse mill was an early type of mill used to grind corn into meal and sometimes wheat into flour. The owner would take a percentage of the ground corn as his fee. The customers often had to supply their own horses, which were used to turn the grindstones. Most of the early horse mills were rude affairs put together using stones that happened to be in the area. The output of these mills was slow, and sometimes a person had to wait a day or more to get his turn at the mill.)
William Proctor, a son-in-law of Judge Phelps, built a tannery. The post office, which was known as Fancy Grove, was conducted in the home of Stephen Stillman, who served as postmaster.
For no particular reason, the community began to break up around 1825. The Phelps family moved across the Illinois River and settled in Lewistown. Many members of the Stillman family relocated to Peoria, along with John Dixon, who served as the first county clerk for Peoria County. Dixon later bought a ferry and founded the town of Dixon. Charles Boyd and Oliver Kellogg also moved north and settled in other parts of the state.
Matthew Harburt took down his mill and moved it into McLean County. Some members, such as James Stewart, remained and farmed the land for many years afterward.
Contributor: Curtis Mann (originally published in Historico, the newsletter of the Sangamon County Historical Society, in 2004)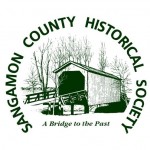 Original content copyright Sangamon County Historical Society. You are free to republish this content as long as credit is given to the Society. Learn how to support the Society.