Driver LaRue Vredenburgh (1882-1910) died in this crash during auto racing at the 1910 Illinois State Fair. The car, a green Stoddard-Dayton characterized as "one of the prettiest running cars on the track," was traveling 60 mph when it went through the fence at the three-quarter-mile mark.

"The front portion of the car was caved in and the right front wheel was knocked off the axle and all the spokes broken," the Illinois State Register reported on Oct. 4, 1910. "The steering wheel was broken in half …"
Vredenburgh, who had been married less than four months, was treasurer of the Peter Vredenburgh Lumber Co.
In 2011, Greg Cone drove a similar car — a 1912 Stoddard-Dayton — in a tribute lap on the fairgrounds' 1-mile track; Cone's lap can be viewed on YouTube.
Note: This entry has been changed to correct Vredenburgh's speed at the time of the accident. Thanks to reader Jerry Waters.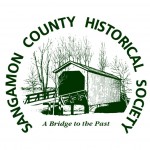 Original content copyright Sangamon County Historical Society. You are free to republish this content as long as credit is given to the Society.