The Sangamon Presbyterian Church, now First Presbyterian Church, was founded by the Rev. John Ellis on Jan. 23, 1828. The energetic Rev. John Bergen soon became the church's first permanent pastor, and he initiated plans to construct a church building.
"The idea of building a meeting house was well received by the citizens generally, but many of them looked upon it as somewhat chimerical, and it is said that some who signed the subscription paper considered the whole matter a pretty good joke," reported Inter-State Publishing Company's 1881 History of Sangamon County . "They signed readily, for they did not intend to appear less liberal than their neighbors, but while pledging themselves to pay the sums set down opposite their names, they considered their money perfectly safe."
The church nonetheless was built by late 1830 at Third and Washington streets. A new, bigger building  was erected there in 1842-43.
Mary Lincoln, wife of Abraham Lincoln, became a member of First Presbyterian in 1852. Although Abraham Lincoln never joined the church, the Lincoln family attended services regularly and rented a pew.
First Presbyterian bought and moved into the former Third Presbyterian Church on the northwest corner of Seventh Street and Capitol Avenue in 1876 (the Lincoln family pew was moved into the church's new home in 1912). That building, with its Tiffany stained glass windows, Brombaugh organ and striking red doors, remains the congregation's home.
One of the church's most colorful leaders was Dr. Richard Paul Graebel (1908-76), First Presbyterian's pastor from 1946 until 1971. Graebel recalled his ministry and other topics, including his friendships with John L. Lewis and Governors Adlai Stevenson, Otto Kerner, and Richard Ogilvie, in an interview with Sally Bunn Schanbacher in 1972.
Thirty members split off from First Presbyterian Church in 1835 to form their own Presbyterian congregation. That offshoot, originally named Second Presbyterian Church, now is Westminster Presbyterian Church.
Hat tip: To Thomas Wood for correcting a dead link above (see comments).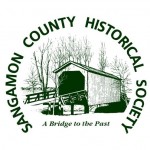 Original content copyright Sangamon County Historical Society. You are free to republish this content as long as credit is given to the Society.