One of Springfield's best-known brothels was operated by Harvey Taylor and his wife, Lucinda, during the Civil War. Known as "Fort Taylor" because of all the soldiers who briefly stationed themselves in this bastion, the Taylors' establishment was just one of several houses of ill repute that popped up during the war.
Harvey Taylor, born in Ohio, and Lucinda Johnson were married in Clark County, Illinois on Aug. 1, 1852, and they apparently moved to Springfield some after their marriage.
From 1859 through 1864, the Taylors, individually or together, regularly appeared in news reports on their illegal activities –often charged with  keeping a house of ill fame, although Harvey also was accused of severely beating another man with a cane and with a shooting. In the shooting case, Lucinda reportedly helped Harvey in an unsuccessful attempt to escape from a police officer who was bringing Harvey back to Springfield for trial.
The Taylors nonetheless apparently prospered, eventually owning two adjacent homes on Fourth Street between Madison and Carpenter streets.  The number of brothels increased so much in Springfield's Second Ward during the war that residents petitioned the city government to suppress them. Seven known brothels existed in the ward, and the stretch of North Fourth where the Taylors operated was considered the sinkhole of the city.
In February 1863, Springfield police began a series of raids on brothels, and 11 prostitutes were arrested at the Taylors'. A newspaper report, however, said no men were found, suggesting that some warning had been given of the coming raid.
On Feb. 4, 1864, a group of drunken soldiers destroyed several businesses, including the Taylors' brothel.
"The establishment presided over by the evil genius known as Harvey Taylor was completely gutted: tables, chairs, sofas, mirrors and all the furniture were completely ruined," according to one newspaper story. "A desirable result but accomplished in an unlawful and much to be condemned manner."
Police officials routinely raided the Taylor establishment during the waning months of the Civil War. Lucinda Taylor was fined on four occasions during for keeping a brothel. At least nine inmates of the establishment were also arrested and fined on each occasion.
The end of the Taylors began Jan. 17, 1868, when Harvey and Lucinda were arrested for robbing W.H. Johnson and Company's store the previous September. Lucinda's son Simpson was also arrested. A search of Taylor's house turned up several pieces of silk taken from Johnson & Company, as well as rings that had been stolen from the store of H.C. Myers & Son the same night. More of Myers' jewelry was found in a shed at Taylor's farm, and tags and wrappings of silk taken from Johnson & Company were in the barn.
The Taylors were unable to pay either bail or the mortgage on their farm. As a result, they applied for bankruptcy in 1868, and their real estate was ordered sold. George W. Chatterton purchased the property for $14,100.
At that point, Harvey and Lucinda disappear from Springfield forever. While the outcome of their trial is not known, a Harvey Taylor identified as a 39-year-old farmer born in Ohio was listed as an inmate in the Joliet prison in the 1870 census. Lucinda simply vanished, and their reign of 10 or more years as the operators of one of the top brothels in Springfield was over.
Contributor: Curtis Mann (this is an edited version of a four-part article written by Mann that was published in the February, March, April and May 2008 editions of Historico, the Sangamon County Historical Society newsletter).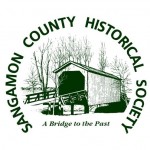 Original content copyright Sangamon County Historical Society. You are free to republish this content as long as credit is given to the Society. Learn how to support the Society.