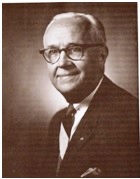 Francis Budinger (1899-1986) president of Springfield-based Franklin Life Insurance Company from 1961 to 1964, was named Springfield's First Citizen for 1975.
The awards committee cited his work with Springfield College in Illinois (now Benedictine University Springfield), St. John's Hospital, the United Way and a variety of other civic and charitable efforts.  He also was elected one of the first members of the board that oversees the Prairie Capital Convention Center.
Budinger discussed his life, family, work at The Franklin, involvement in the arts, travel, philosophy and other topics in an oral history interview in 1980. The interview is on file at the University of Illinois Springfield.
More information: The Fabulous Franklin Story: the History of the Franklin Life Insurance Company 1884-1970, by Francis O'Brien (1970). Available at Lincoln Library in Springfield.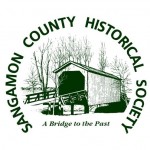 Original content copyright Sangamon County Historical Society. You are free to republish this content as long as credit is given to the Society.