The newlywed Abraham and Mary Lincoln rented a room in The Globe Tavern, 315 E. Adams St., from November 1842 until the next fall. Their oldest son Robert was born there.
The photo above, from 1886, shows only a portion of the Globe; James T. Hickey established in 1963 that the building would have been significantly larger when the Lincolns lived there; read more in the Winter 1963 edition of the Journal of the Illinois State Historical Society.
The Globe was demolished in the 1890s.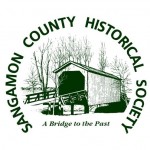 Original content copyright Sangamon County Historical Society. You are free to republish this content as long as credit is given to the Society. Learn how to support the Society.