Frank Godley (1841-1922), proprietor of the Springfield Shoddy Mills, was born in Yorkshire, England, where he became involved in woolen manufacture starting at 10 years old. He emigrated to the United States in 1864 and reached Springfield in 1867.
Godley opened a coal and wood yard in 1868, but changed to manufacturing "shoddy," a cloth manufactured from a combination of recycled rags and virgin wool, in 1877 at a factory at 15th and Madison streets.
"Under his skillful and energetic management the business has rapidly developed until he now uses about four thousand pounds of rags per day, the woolen ones being converted into an article called shoddy, sold to many of the woolen manufacturers in various parts of tbe country, and used in small proportions with wool in making cloths, cashmeres, etc.," the 1881 History of Sangamon County reported. "Mr. Godley has invested in the plant and premises $10,000."
Despite Godley's success, the word "shoddy" had acquired a negative connotation during the Civil War, when soldiers had found that uniforms and blankets made of shoddy tended to disintegrate quickly. The word "shoddy" quickly began to be used to refer to any inferior-quality item supplied during the war, and that definition still predominates today.
Frank Godley also was a member of the Springfield Fire Department and the Board of Supervisors.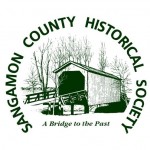 Original content copyright Sangamon County Historical Society. You are free to republish this content as long as credit is given to the Society.