William S. Hamilton (1797-1850), a son of U.S. founding father Alexander Hamilton, lived in Springfield from about 1822 to 1827. He worked as deputy surveyor in the land office and as a merchant and lawyer. As a surveyor, Hamilton was responsible for laying out the city of Peoria.
He was elected to the state legislature in 1824, when Springfield was vying with Sangamo Town to be named the county seat of Sangamon County. Hamilton supported Sangamo Town, but Springfield nonetheless won the county seat in 1825.
Hamilton moved two years later to Galena. He later became prominent in Wisconsin, but finally moved to California, where he died, during the Gold Rush.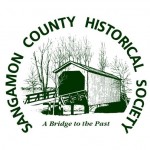 Original content copyright Sangamon County Historical Society. You are free to republish this content as long as credit is given to the Society.