James D. Henry (1797-1834), gained the title of "General" via his acknowledged exceptional leadership during the Black Hawk War of 1832.
Henry, who arrived in Springfield in 1826, was elected sheriff in 1827 and was operating a store on the northwest corner of First and Jefferson streets by 1828, according to John Todd Stuart's later recollections. (The store is No. 13 on the reconstructed map of 1828 Springfield.)
Henry served as an officer in the 1827 Winnebago War, and he responded again when the Black Hawk War broke out. In contrast to many militia officers during the latter conflict, Henry demonstrated some military aptitude, suppressing a militia mutiny and directing two major victories over Black Hawk's warriors. John Carroll Power's conclusion:
The most remarkable man engaged in that campaign was Gen. James D. Henry, and if that had been an age of newspapers and reporters, he would have acquired a national reputation. That he was the hero of the two principal battles fought in expelling the Indians in that campaign, was known beyond a doubt, and so well understood by the Illinois soldiers from all parts of the State, that the opinion was freely expressed that, if he had lived, he would have been elected Governor by an overwhelming majority, against any other man. Strange as it may seem, he was scarcely heard of outside of the State.
Henry's exploits also inspired a local poet:
Brave Henry, foremost in the fight,
To him we owe the meed of might.
The Bard his deeds should tell,
And proud our Sangamo should be
That boasts a warrior such as he!
As the Power excerpt suggests, Henry's military renown led to his being nominated to run for governor in 1834. However, he died in New Orleans before he could undertake the campaign.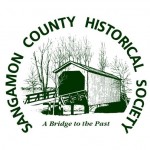 Original content copyright Sangamon County Historical Society. You are free to republish this content as long as credit is given to the Society.