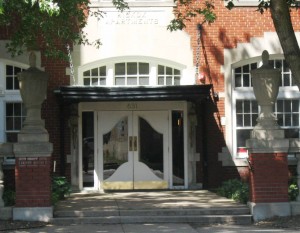 The Hickox Apartments, built at Fourth and Cook streets beginning in the mid-1920s, are a five-building, 100-unit complex that "brought social respectability to apartment living" in Springfield, according to Fever River Research's 2003 study of the Aristocracy Hill neighborhood.
Builder Harris "Buzz" Hickox (1889-1972) began with a row of three-story buildings that appear to have been opened to tenants in June 1926. Those were followed by a five-story courtyard building in about 1930.
"The later building consisted of small efficiency apartments designed for the  single professional worker and childless couples. It was equipped with large formal lobbies for receiving visitors," Fever River reported. "… These apartment buildings had such space-saving features as tiny kitchens and fold-up 'Murphy Beds.'" The new units also offered central refrigeration, window washing and laundry and maid service.
"The combination of Hickox's social status, the location near the Executive Mansion, modern design, and sound maintenance allowed the complex to endure," Fever River concluded.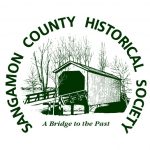 The Hickox Apartments were added to the National Register of Historic Places in 1984.
Life at the Hickox: James Krohe Jr., the resident of a Hickox apartment in the 1970s, described life there in a 1978 article for Illinois Times.
Original content copyright Sangamon County Historical Society. You are free to republish this content as long as credit is given to the Society.