The Hickox Mill was located on Spring Creek, near modern-day Veterans Parkway north of Jefferson Street in Springfield.
Abraham Lanterman submitted the first mill dam application ever in Sangamon County to the Commissioners' Court in December 1823, but in May 1825,  Lanterman sold the property for $500 to John Taylor, a merchant and land speculator. Taylor built a mill on the site, apparently with the intent of leasing it.
Taylor's son-in-law signed a contract to lease the mill to the Duncan brothers for a five-year term (1832-1837). David Duncan mortgaged the mill's "running gear" as well as the millstones to his brother William. Taylor then sold the mill to another speculator, Nathaniel A. Ware, and Ware resold the mill to Horace Hickox on November 8, 1836 for $1,600.
The Hickox brothers (Horace, Addison, and Virgil), who had arrived in Springfield during the early 1830s, improved the existing mill and later added steam power to facilitate year-round operation independent of low water levels. Under the Hickoxes' ownership, the mill operated at its peak.
The Hickox mill pond was the site of a murder investigation in 1841, when residents of Springfield suspected that the body of a man named Fisher had been dumped there by the Traylor brothers. One of the Hickox brothers was paid $200 in compensation for the draining of the mill pond. The level of the pond was reduced to four feet, but no body was found.
A steam engine had been added to the Hickox mill by 1840, when a newspaper article noted the steam saw and flouring mill was "doing a heavy business." The 1850 census of manufacturing for Sangamon County stated the saw mill produced 80,000 feet of lumber. The grist and flour mill produced 3,000 barrels of flour and 4,000 barrels of meal.
Eventually the Hickox brothers went their separate ways and sold their interests in the mill. Virgil (1806-80) became wealthy from involvement in railroads, land development; and banking; he also was a close friend of Stephen Douglas. Addison and Horace purchased steam-powered mills in Springfield and continued to work as millers.
The brothers' mill was sold in 1856 to Lewis Wackerle, who was to be its last operator. It ran for several years under his control until he bought the Phoenix Mill in Springfield and closed the old mill on Spring Creek. Lewis Wackerle sold the mill site to Frank Reisch on Sept. 19, 1883 for $7,225. The Hickox Mill probably closed down after the Reisch purchase.
Contributor: Curtis Mann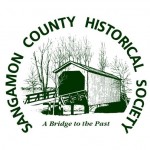 Original content copyright Sangamon County Historical Society. You are free to republish this content as long as credit is given to the Society.