Although accounts differ, most people credit Joseph Schweska with creating the horseshoe sandwich, the locally famous open-faced combination of toast, meat and French fries covered in cheese sauce.
As the story goes, Schweska, who was the chef at the Leland Hotel, Sixth Street and Capitol Avenue, in the late 1920s, needed a new item for his lunch menu. His wife, Elizabeth, suggested a sandwich featuring a Welsh rarebit sauce.
According to family accounts, Schweska's first horseshoe sandwich got its name because the meat was ham cut off the bone in a horseshoe shape. It was served with potato wedges instead of fries. The cheese sauce was Schweska's own recipe.
The horseshoe later was popularized by Steve Tomko, who had worked at the Leland with Schweska and went on to cook at Norb Andy's Tabarin and Wayne's Red Coach Inn, both of which offered well-regarded horseshoe variations.
Modern horseshoe recipes, usually presented on Texas toast, feature a variety of meats — most often hamburger or chicken as well as ham — and proprietary cheese sauces. (In addition to the origin of the sandwich, horseshoe aficionados in Springfield tend to argue over the best cheese sauce recipe.)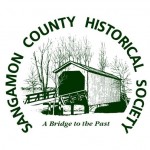 The horseshoe is regularly featured when national TV crews visit Springfield. The Wall Street Journal  also reported on the horseshoe in 2010.
Original content copyright Sangamon County Historical Society. You are free to republish this content as long as credit is given to the Society. Learn how to support the Society.