Illini Country Club was founded in 1906 on 138 acres of farmland off Chatham Road that was purchased from Noble Wiggins.
Illini was an outgrowth of the Springfield Golf Club, which had owned what now is the Pasfield Park Golf Course since the late 1890s. However, the club outgrew the Pasfield Park property, and a committee headed by P. Barton Warren took on the task of organizing a new, private club.
Besides acquiring the Wiggins property, creating a viable club required streetcar access. Warren, the attorney for the company that operated city streetcars, lobbied successfully for a 1 1/2-mile line to be built to the southeast corner of the Illini property.
Illini received its charter on May 22, 1906. There were 195 charter members, and Warren was elected the first president.
The golf course, designed by Tom Bendelow (known as "the Johnny Appleseed of American golf") began as nine holes, but was expanded to 18 in 1922.
Source: The History of Illini Country Club (1963)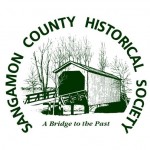 Original content copyright Sangamon County Historical Society. You are free to republish this content as long as credit is given to the Society. Learn how to support the Society.