Nine major buildings make up the heart of what is known as the Capitol Complex – the Statehouse and surrounding state government structures. Included are:
*The Capitol itself
*The Michael J. Howlett Building (formerly the Centennial Building), south of the Capitol. The cornerstone was laid in 1918 – the 100th anniversary of Illinois statehood – and the building was completed in 1923. It now houses offices of the secretary of state, an office once held by Howlett. (See also entry on Hall of Flags)
*Gwendolyn Brooks Building (Illinois State Library), southeast corner of Second and Monroe streets. Opened in 1990. The exterior frieze honors 35 Illinois authors. Brooks was Illinois poet laureate.
*Margaret Cross Norton Building (Illinois State Archives), south of the Capitol. Built from 1936 to 1938. Norton was former archives superintendent. The names of 25 people who contributed to development of the state and nation are engraved on the archives building.
*William G. Stratton Building, west of the Capitol. Built in 1954-55 to provide additional state office space. Stratton was governor of Illinois from 1953 to 1961.
*Illinois State Museum, Spring and Edwards streets. Construction began in 1961, and the building was dedicated in 1963. Purpose-built as a museum, replacing facilities formerly in the Howlett/Centennial Building.
*State Capitol Visitors Center, west across College Street from the Stratton Building. Opened in 1988. Provides parking, information and vending services for visitors.
*Supreme Court Building, across Second Street east of Capitol. Dedicated in 1908.
*Attorney General's Building, across Second Street east of Howlett Building. Dedicated in 1972.
Other prominent state buildings in the area include the Illinois State Armory (now vacant), across Monroe Street north of the Capitol; and the Illinois Fourth District Appellate Court building on the northwest corner of Spring and Monroe streets.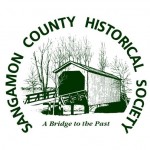 Original content copyright Sangamon County Historical Society. You are free to republish this content as long as credit is given to the Society. Learn how to support the Society.