The Illinois State Library was founded in 1839 by then-Secretary of State Stephen Douglas, who reserved space for it next to his new office in what is now the Old Capitol State Historic Site. Abraham Lincoln, who used the library frequently, was the first person to check out a book.
The library later moved into the present Capitol, above, and then into the Centennial (Howlett) Building south of the Statehouse, when it was completed in 1923.
Since 2003, the library has occupied its own Gwendolyn Brooks Building on the southeast corner of Second and Monroe streets.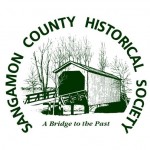 Original content copyright Sangamon County Historical Society. You are free to republish this content as long as credit is given to the Society. Learn how to support the Society.