A few Springfield and Sangamon County histories mention a once-famed hostelry, now generally forgotten — the Indian Queen Hotel. Owned and operated by Archer Herndon Sr., Sr., the Indian Queen was one of the city's best accommodations in the early 1830s. In most cases the Indian Queen is referred to as a tavern, then the common name for an establishment selling food and drink, providing beds and stabling horses.
The Indian Queen's beginnings date back to the founding of Springfield. Elijah Slator was given a license by the county to keep a tavern in the town of Springfield in 1822. Slator's tavern was on the northeast corner of present-day Second and Jefferson streets, the town's business center at the time.
Gershom Jayne, Slator's son-in-law, sold the tavern property to Herndon on Oct. 1, 1828 for $600. In his reminiscence of early Springfield, John Todd Stuart described the northeast corner of Second and Jefferson as being occupied by a small log house, used as a store and dwelling by Herndon.
Herndon received his license to keep a tavern in September 1829 after paying a tax of $6. The county established rates for the sale of alcohol, food, rooms and stabling. Brandy and whiskey could be purchased for 12½ cents a half-pint while "good quality" wine was 25 cents. Meals cost 25 cents as well, while lodgers paid 12½ cents per night to bed down.
Little is known of Herndon's operation. But one account, left by a traveling Englishman, does shed some light on the hotel.
In his book Three Years in North America, James Stuart described his brief stopover in Springfield.
Springfield is a struggling village, somewhat larger than Jacksonville, but the situation is not at all equal to it in point of beauty or interest. The hotel was nearly as bad as that at Jacksonville. (Herndon) was the name of the landlord. It was difficult to say whether he, his wife, or his daughter was the sauciest. They certainly were as rude and untutored as I have seen.
Herndon nearly lost the Indian Queen in September 1832, when the Sangamon County Circuit Court ordered the hotel sold to pay for debts he owed. He managed to redeem the property, but a year later, Herndon sold the Indian Queen, along with some other city property, to land speculator Nathaniel Ware for $7,500. It is not known if the property was ever used as a tavern again.
Contributor: Curtis Mann (first published in Historico, newsletter of the Sangamon County Historical Society, in 2003)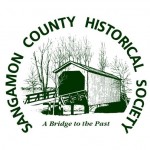 Original content copyright Sangamon County Historical Society. You are free to republish this content as long as credit is given to the Society.