Springfield had a major shoe factory at Tenth Street and Enos Avenue from 1903 to 1964. The plant, built in the late 19th century, originally was the Springfield Furniture Co., but became a shoe factory when it was taken over  by the Desnoyer Brothers Shoe Company. When Desnoyers went into receivership in 1910, the facility was taken over by the newly formed International Shoe Company.
Most shoe workers were women.  However, conditions for workers in Springfield's International Shoe facility were called a "disgrace" by an Illinois Senate Vice Commission in 1913.
One 21-year-old woman told the commission that girls in the box department "were driven at top speed, and that the foreman cursed them when they failed to turn out as much work as he desired," the New York Times reported. "On a half dozen different occasions, she testified, she fainted from excessive exertion. She said the foreman of the department sometimes seized girls and shook them when they displeased him."
In 1914, the Boot and Shoe Recorder found it newsworthy that International Shoe had installed a restroom for its women workers in Springfield. Plant employees later were represented by the Boot and Shoe Workers union.
The shoe factory reached peak employment, 650 people, in 1930, when the plant was producing 4,500 pairs of shoes a day.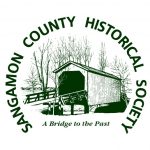 Employment fell to 300 by the 1960s, and the factory closed in 1964. Goodwill Industries bought the factory complex, but the last Goodwill facility there, an outlet store, closed in 2013.
The south side of the old shoe factory complex was destroyed by a fire, probably caused by homeless squatters, on Christmas Eve 2022.
Original content copyright Sangamon County Historical Society. You are free to republish this content as long as credit is given to the Society. Learn how to support the Society.