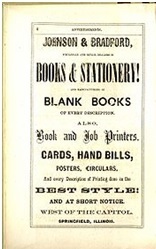 Johnson & Bradford Bookstore, founded in 1837, was thought to have been the oldest bookstore in Illinois when John Carroll Power produced his 1871 History of Springfield, Illinois, Its Attractions As A Home And Advantages For Business, Manufacturing, Etc.
The founder was John H. Johnson, who originally partnered with a "Mr. Burchell," according to Power. (Curtis Mann of Lincoln Library's Sangamon Valley Collection believes the person referred to is Caleb Birchall.)
Capt. John S. Bradford became Johnson's partner in 1841. They were in business together on the west side of Fifth Street, across from what is now the Old Capitol, until 1869.
Johnson and Bradford each continued in the book business, but the two booksellers seem to have both closed up shop separately in 1873. Bradford went on to a career as a bankruptcy court official.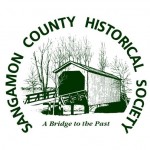 Original content copyright Sangamon County Historical Society. You are free to republish this content as long as credit is given to the Society.