Robert Rudolph (1824-68) was a master brewer who came into his fortune when he married Rosa Kun, the widow of Rudolph's former employer, Andrew Kun, in 1864.
Two years later, the Rudolphs built a lavish Italianate mansion at 511 W. Carpenter St., across Walnut Street from the former Kun Brewery, by now renamed the Rudolph Brewery.  The home became better known later as the Diller Mansion; it was destroyed by a fire in 1968.
Also in 1866, Robert Rudolph financed construction of the Rudolph Opera House, a $125,000 palace at Sixth and Jefferson streets.
The building was hailed as an architectural masterpiece when built. "It is to be hoped," The Illinois State Register said prior to the opera house's opening in December 1866, "the proprietor will be well remunerated for his outlay of capital and time. …"
The Illinois State Journal, in a review of Springfield theatricals written on April 30, 1927 for the opening of the Orpheum theater, remembered Rudolph's in far less complimentary fashion, calling it a "great barn of a place … with poor accommodation for both actors and audience." However, writer Fred Harding added, stars still filled the Rudolph's stage.
The longest engagement on record at Rudolph's was that of Lotta (not otherwise identified — ed.) , who must have been good, for she packed the house every night for three weeks. Edwin Forrest in "Richelieu," Joseph Jefferson ("Our Joe") in "Rip Van Winkle," Hamlin Brothers, famous acrobats and aerial performers, W.E. Sheridan, Annie Ward, Laura Keene and many other celebrities played in the house.
At his death, Rudolph was heavily in debt, and his heirs lost ownership of both the mansion and the opera house. The brewery property remained in Rosa Rudolph's  name — she married another master brewer, Moritz Keydell, shortly after Rudolph's death — but the Kun-Rudolph-Keydell brewery apparently ceased operations in the late 1870s.
The opera house, meanwhile, had been taken over by Jacob Bunn Sr., one of Robert Rudolph's major creditors. It was destroyed by a fire in 1876. The opera house was rebuilt, but after Bunn encountered financial difficulties in 1878, the Rudolph was sold in 1879 to jeweler George Chatterton, and the fabled Chatterton Opera House formally opened on Sept. 10, 1879.
Robert Rudolph is buried in the Kun plot in Oak Ridge Cemetery.
This entry has been edited to correct the date when the Chatterton Opera House opened. Thanks to reader Kenneth Vance.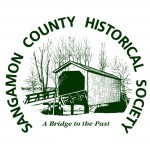 Original content copyright Sangamon County Historical Society. You are free to republish this content as long as credit is given to the Society.