Mary Thankful Spaulding Lee — known universally as "Maydie" — has been overshadowed in history by her dynamic brothers, Willis and Charles Spaulding. But some of those involved in Springfield's early 1900s' progressive movement, including poet Vachel Lindsay, suggested that Maydie (1879-1920) may have been the most influential Spaulding of them all.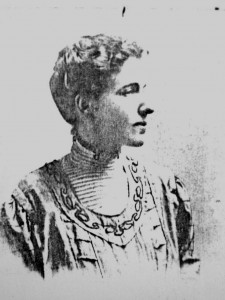 "The heart of (Springfield's) intellectual circle … was the woman of the cottage, Maydie Spaulding Lee," Dennis Camp wrote in his unfinished biography of Lindsay, Uncle Boy. Camp goes on to quote Lindsay about Maydie:
Catholic and Protestant, Jew and Greek were all brought to fine speaking terms by our great hostess. Her consecrated heart was indeed the very heart of Springfield. After his obvious victories, she kept her brother Willis Spaulding at the actual battle of bringing her ideals before the folks of the city, in some form that they could understand.
Maydie and her husband, wholesale grocer George Lee, were Single Taxers, supporting the position of radical economist Henry George that the only tax should be levied on land. But Maydie was active in a wide range of progressive causes. A memorial leaflet contained in the Willis Spaulding file at Lincoln Library's Sangamon Valley Collection summarized some of her activities:
She early became identified with the Woman Suffrage movement, and was President of the Springfield Women's Trade Union League, and Mothers' Club of Lawrence School District. To promote free kindergartens, she organized and conducted a kindergarten at Iles School. She was active in the Americanization Work during the war, associated with Dr. Caroline Hedger of Chicago; was Chairman of the Women in Industry Committee of the State Council of Defense, and her last summer was spent in teaching English to foreign-born men and women, classes being held in their homes and in the Pryor School. During the Presidential campaign of 1916, she was Chairman of the Women's Woodrow Wilson League, and in this capacity spoke at meetings through Sangamon County.
Chicago Evening Post reporter William Chenery quoted Lindsay in 1914 as saying "a red-headed girl (Maydie Lee), was at the bottom" of Willis Spaulding's successful push to adopt commission government in Springfield. "The people voted for the commission form on January 2, 1911," Lindsay reportedly said, "but the girl began to work twenty years ago." Maydie Lee also was known for her hospitality, and the Lees' home was a virtual salon for progressives in Springfield. After she died young — at age 40 — following  surgery for a stomach ulcer, an anonymous eulogizer said of Maydie:
One of her distinguishing traits was a genius for friendship, a sincere and generous interest in people being the dominant impulse of her life. Her home was not only the haven for her husband and children, but the gathering place for her many friends. It is doubtful if any private home sheltered in a year as many outside guests, or served as the scene for so many social gatherings as did the home of Mary Lee. … (H)er hospitality and welcome were so assured that her friends from out of town felt no hesitancy in going from the train to the Lee house even without previous notice, no matter if the hour was midnight.
"Many causes will miss Mary Spaulding Lee," the eulogist said, "many friends, and many admirers." She is buried in The Abbey mausoleum at Oak Ridge Cemetery.
More information: Memorial leaflet in Willis Spaulding file in the Sangamon Valley Collection at Lincoln Library (photo above taken from leaflet)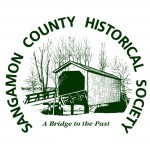 Original content copyright Sangamon County Historical Society. You are free to republish this content as long as credit is given to the Society. Learn how to support the Society.