Envisioned by Harriet Knudson in 1936, Lincoln Memorial Garden was created as a living memorial to Abraham Lincoln, representing "the landscape … Lincoln would have known growing up and living in the Midwest."
The 100-acre garden on the banks of Lake Springfield, designed by famed landscape architect Jens Jensen, features a wide range of native trees and plants accessible by meandering paths and eight "council rings,"  stone seating areas that invite visitors to relax and contemplate their surroundings.
"Though Lincoln probably never walked through the area now occupied by the Garden," according to a history on the garden's web site, "Jensen's design concept was to create a sense of the Midwest landscape that would have been familiar to Lincoln. Jensen's use of native plants achieved this goal; the oaks, maples and hickories, as well as the prairie grasses and forbs – Lincoln probably could have named them all."
More information: Harriet Knudson discussed creation of Lincoln Memorial Garden in an interview conducted by her daughter, Harriet Knudson Flinn, in 1965. Another daughter, Berta Cochran, discussed the garden and her mother's life in general in a series of interviews done by the Oral History Project at what is now the University of Illinois Springfield in 1972 and 1975.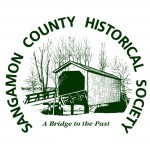 Original content copyright Sangamon County Historical Society. You are free to republish this content as long as credit is given to the Society. Learn how to support the Society.