Although the Lincoln family home at Eighth and Jackson streets in Springfield reflected Abraham Lincoln's status as a prominent attorney and politician, the National Park Service points out that the neighborhood surrounding the home was a diverse one. The following description comes from an NPS flier, "The Lincoln Home Neighborhood: Yesterday and Today."  
For example, though his home was part of a city environment, Henson Lyon owned farmland east of Springfield and identified himself as a farmer by occupation. Harriet Dean taught school in her home. Mary Remann, a widow, helped meet expenses by renting part of her home to boarders. Amos Worthen served as the Illinois state geologist and was conducting a survey of geological features and mineral resources in various parts of the state during the period he resided in the neighborhood. Jameson Jenkins moved goods by wagon. Jared P. Irwin was a bricklayer who helped in the construction of the Capitol building, known today as the Old State Capitol.
Today, the Lincoln Home National Historic Site preserves 14 Lincoln-era houses (including the Lincoln Home itself) (see map above).  All 14 houses, plus the Solomon Allen barn, are individually listed as historic by the Springfield Historic Sites Commission. The National Historic Site as a whole is listed on the National Register of Historic Places.
Much more information about the Lincolns' neighbors is available from the Lincoln Home National Historic Site.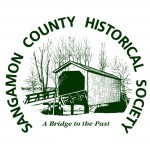 Original content copyright Sangamon County Historical Society. You are free to republish this content as long as credit is given to the Society. Learn how to support the Society.