Before Charles Lindbergh became famous for his nonstop solo flight across the Atlantic Ocean in 1927, he flew the U.S. mail between Springfield, Chicago and St. Louis for the Robertson Aircraft Corporation.
The first official flight, piloted by Lindbergh, was on April 15, 1926. Spurred by weeks of advance publicity, an estimated 5,000 area residents thronged the edges of a 60-acre field west of Springfield. (Use of the field had been hastily arranged after Lindbergh's plane nearly got stuck at the originally planned takeoff spot north of town.)
The turf field, off Hazlett Lane, was owned by Bill Bosa. It was known variously as Bosa Field, Springfield Airport and Conkling Field (the Springfield postmaster was William Conkling) until it was renamed Lindbergh Field in 1927, following Lindbergh's Atlantic exploit.
Air operations ceased at Lindbergh Field in 1929, and it has reverted to farmland. Local Boy Scouts installed a plaque at the site in 1995.
Airmail flying in 1926 was statistically the most dangerous occupation in the U.S., and Lindbergh was not exempt. An equipment problem with his mail plane forced Lindbergh to land in a farm field in northern Sangamon County on Sept. 30, 1926. Lindbergh got a ride to Springfield to deliver his mail, then stayed the night at the home of a nearby farmer (across the county line in Menard County). Lindbergh made repairs the next day and resumed his flight.
Commemorative markers were placed at both the landing site, off Irwin Bridge Road, and the farm home in the 2000s. However, the landing site sign, erected in 2007 by the Sangamon County Historical Society, was stolen some time prior to early 2014.
The marker's wording was:
Charles A. Lindbergh made an emergency landing here (275 feet behind marker) on September 30, 1926 on his mail run from St. Louis to Chicago. He slept in the Dirks farmhouse in Athens* 1.5 miles north and left the following morning after repairing his plane. Lindbergh made the first nonstop flight from New York to Paris on May 20, 1927. — SCHS
Lindbergh returned to a hero's welcome in Springfield on Aug. 15, 1927, when the west-side airfield was officially named after him.
"It's like coming home, flying to Springfield," he said.
*Editor's note: The Dirks farmhouse actually is not "in" Athens. It is on Fitschen Road, in a still-rural area several miles south of Athens and nearer to Cantrall.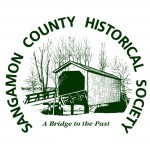 Original content copyright Sangamon County Historical Society. You are free to republish this content as long as credit is given to the Society. Learn how to support the Society.