Charles R. Matheny (1786-1839), was a prominent political and religious leader in Sangamon County's earliest days.
Born in Virginia, Matheny was ordained a Methodist minister and studied law in Kentucky. He was elected to the Illinois territorial legislature from St. Clair County, Illinois, in 1817, which led to his move to Sangamon County.
Matheny and his wife, Jemima, had seven children in St. Clair County.
"(W)hen the law was enacted for the organization of Sangamon county, he was induced by the tender of the office of county clerk, county auditor, circuit clerk, and some other prospective advantages, to come to Springfield, arriving in the spring of 1821, where four children were born," wrote John Carroll Power in his History of the Old Settlers of Sangamon County (1876).  One of those children, James Matheny, was in the wedding party of Abraham and Mary Lincoln.
Charles Matheny remained a minister, and Springfield's First United Methodist Church considers that its beginnings date from a service held in the Matheny cabin — at what is now 101 E. Washington St. — on May 23, 1821.
Matheny served as county clerk until his death in 1839. He also was elected village president when Springfield was incorporated as a village in 1832, and he remained in that office as well until he died.
The Sangamon County courthouse and Matheny's office are listed as No. 36 on the reconstructed map of 1828 Springfield. He is buried in Oak Ridge Cemetery.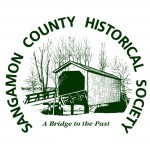 Original content copyright Sangamon County Historical Society. You are free to republish this content as long as credit is given to the Society.