Although it is mentioned briefly in Paul Angle's Here I Have Lived: A History of Lincoln's Springfield, little is known about the short-lived Mechanics and Farmers Bank of Springfield.
The bank was created in the late summer of 1852, when stock was sold to citizens of Sangamon County. At a meeting of stockholders on Aug. 23, 1852, Springfield merchant Thomas Lewis was elected president and William F. Keefer was chosen as cashier. A board of 24 directors was elected, most of them Springfield businessmen.
The bank opened for business on Nov. 1 on the north side of the public square. The institution was capitalized at $100,000 with $50,000 already deposited with the state of Illinois. By January 1, 1853, the amount of capital stock had risen to $71,800.
Business was good, and the bank had loaned out a little over $63,000 by July 1, 1853. The board of directors declared a first dividend of 10 percent on their stock in October 1853. Growth continued through the next year such that on Oct. 2, 1854, the directors declared a dividend of 12 percent. The amount of capital stock had risen to $115,000.
But the doors of the Mechanics and Farmers Bank closed only six weeks later, on Nov. 22, 1854. The board of directors blamed a circular published by some brokers in St. Louis, Missouri.
The circular, which had appeared a few days before the closing, raised doubts about the value of the bank's notes by stating that brokers were refusing to accept them. This caused nervous depositors and holders of banknotes to demand specie and currency payments amounting to $47,000 before the bank closed for the day.
Upon reopening the next day, the board directed the bank to continue reimbursements until all funds were expended. The bank then closed and never reopened.
Contributor: Curtis Mann (originally published in Historico, the newsletter of the Sangamon County Historical Society, in 2002)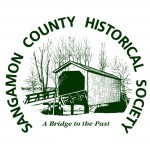 Original content copyright Sangamon County Historical Society. You are free to republish this content as long as credit is given to the Society.