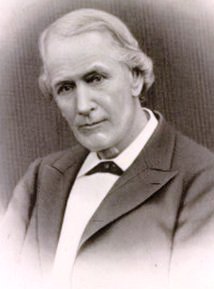 Zimri Enos (1821-1907), the son of Pascal and Salome Paddock Enos, came to Springfield with his family at age two. He became a lawyer, engineer, surveyor and property developer and served as a Springfield city alderman and member of the board of education.
Enos' memories of early Springfield, published by the Illinois State Historical Society in 1909, are particularly useful because they were written from a surveyor's perspective, but they often provide more than mere geographical descriptions. Here is part of Enos' recollection of the site (now Second and Jefferson streets) of John Kelly's cabin, the nucleus of early Springfield:
This location was in the middle of a handsome undulating prairie nook, a mile in length east and west and a half mile north and south, thoroughly drained by never failing spring branches and bordered on the north and west by heavy timber and on the south by a number of beautiful groves of young forest trees, of pin oak, elm, cherry and hackberry, which were festooned with grape vines and fringed with plum and haw bushes, carb-apples, hazel nuts, alders and blackberries, and encircled by millions of strawberry vines.
Original content copyright Sangamon County Historical Society. You are free to republish this content as long as credit is given to the Society. Learn how to support the Society.