Lucretia ("Aunt Cressy" or "Aunt Creecy") Moore, "a woman of colour," paid $25 to buy a lot at the northeast corner of Fourth and Washington streets from Elijah Iles in 1827. John Todd Stuart remembered her living there in 1828. The location is No. 29 on the reconstructed map of 1828 Springfield.
The 1830 Census recorded the household of Parker Moore (age between 24 and 36), Lucretia (age 36-45) and three girls, one under age 10 and the other two between 10 and 24 years old.
They were among 19 African American residents of the city in 1830, 10 categorized as "free colored" and nine as "slaves."
More information: Early African American Population of Springfield Illinois by Richard Hart (2008)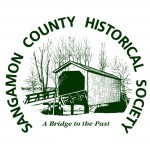 Original content copyright Sangamon County Historical Society. You are free to republish this content as long as credit is given to the Society.