The Orpheum Theatre in the 100 block of North Fifth Street was Springfield's preeminent movie palace from 1927 to 1965. It was demolished to make way for expansion by the Illinois National Bank.
The theater, with a spectacular Art Deco interior, seated more than 2,700 people for films, vaudeville and theatrical performances of all sorts. Total estimated construction cost was $2 million in 1927. The Barton Theatre Organ alone cost $50,000. (Restored, the organ now is installed in the Springfield High School auditorium.)
"(I)n the lobbies, foyers, lounges and dressing rooms, the hand of lavishness has had free play," the Illinois State Register said in a pre-opening story on April 29, 1927.
In addition to the theater itself, the Orpheum building included 18 stores, office space, a recreation room (meaning pool hall), a ballroom and a cafe.
The Orpheum was designed by E.P. Ruppert of R. Levine & Co., a major Chicago-based theater design firm. (R. Levine & Co. constructed 27 theaters worth $30 million in 1926, the year before the Orpheum opened.) The theater's local owners included Louis Roberts, Charles Robinson, Julius Myers, Fred Schuster, Herbert Bartholf, Stuart Broadwell, Carl Luers and Adolph Kunz.
The theater was part of the Orpheum vaudeville circuit and hosted vaudeville performances in addition to movies.
What may have been a typical lineup offered four separate daily performances of "the musical mirth-quake of 1939": the Folies d'Amour, "a glorious Parisian revue"; Jed and Audrey Dooley, "designed for laughter"; the Famous Arnolds; and Mlle. Fleurette and her "daring dance sensations 'The Bird of Paradise' and 'The Flight of the Bumblebee'". The show included "24 lovely girls" among a cast of 45.
Dick Powell, Duke Ellington, George Burns, Cab Calloway and Lawrence Welk  were among the many nationally known performers who appeared at the Orpheum during its glory years.
Blockbuster movies also tended to hold their Springfield premieres at the Orpheum, and lines sometimes stretched around the corner for movies like Ben-Hur in 1959.
In 1965, the Illinois National Bank bought the Orpheum for $600,000 and tore down the theater to create drive-in banking facilities and additional parking. The theater was demolished later that year. (The former INB is now PNC Bank.)
More information: Sangamon Valley Collection, Lincoln Library.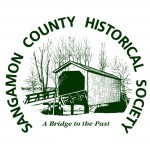 Original content copyright Sangamon County Historical Society. You are free to republish this content as long as credit is given to the Society. Learn how to support the Society.