UPDATE (April 2023)
Chris Richmond of Moving Pillsbury Forward said in April 2023 that further research determined the "Bicep Doughboy" was created by Pillsbury itself in July 1981. However, Richmond wrote, the possibility remains that the original creator of the Doughboy was Wynn Wilkins of the Springfield plant. See Richmond's followup news release at the end of this entry.
Did the Pillsbury Doughboy, one of advertising's most recognizable images, originate in Springfield? Pillsbury says no. The company says Rudy Perz, a copywriter at the Leo Burnett Agency in Chicago, came up with the idea in 1965.
But Moving Pillsbury Forward, a non-profit founded to reclaim and redevelop Springfield's former Pillsbury plant, found evidence in 2022 and 2023 suggesting that the Doughboy might actually have been born at the local plant.
In a statement released March 15, 2023, MPF founder and president Chris Richmond reported that Springfield's claim to the Doughboy is unproven, but "plausible." MPF's discoveries, Richmond wrote, raise the possibility that the first Doughboy was the creation of Wynn "Wilky" Wilkins, an artist and supervisor at Pillsbury Springfield in the 1940s and '50s.
Key to the claim is a drawing – which Richmond called the "Bicep Doughboy" – that MPF cleanup crews found in December 2022 on a control panel in the old plant's bakery mix building. If Wilkins sketched the Bicep Doughboy, it presumably predates the Leo Burnett version, since, according to his family, Wilkins left Pillsbury employment in 1962 or '63.
Here is a lightly edited version of Richmond's March 15 statement.
Moving Pillsbury Forward (MPF) announced last week that an early doughboy image was found at the former Springfield Pillsbury plant. MPF asked for your help to bring forth information about the "Bicep Doughboy" discovery. Various media outlets picked up on the story and aided us in the effort to get the story out to the community. MPF is pleased to report that the collective effort worked.

There were several new leads regarding the history of the "Bicep Doughboy" image. This information has been documented as accurately as possible. The new leads have proven to be fascinating.

The story begins with two local teenagers who went to work at the Springfield Pillsbury Mill in the early 1940s. Both young men were born in 1925, worked at Pillsbury, then joined the Navy and served during WWII. Both men returned from the war and went back to work at the Springfield Pillsbury plant. They remained best friends for the rest of their lives.

Wynn "Wilky" Wilkins (1925-2010) and Jim "Jaws" Shrake (1925-99) were well known at the Springfield Pillsbury plant in the late 1940s and throughout the 1950s. Wynn was known for making cartoon sketches of his friend Jim (and other coworkers) and posting them around the plant in break rooms and various other areas of Pillsbury.

Early in his life, Wilkins had taken up art and attended art school. He continued in art by sketching works for the local Pillsbury newsletter, known as "The Springfield Safety Circle," that originated in 1949. In a recently documented 1955 issue he is listed as "Wynn Wilkins – Artist."

Wilkins was promoted to a salaried supervisor position at the plant sometime in the mid- to late 1950s. He continued his sketch work and even made a few dollars on the side doing advertising pieces. He had honed his artist's craft well enough to gain good attention.

The story as told by Wilkins and Shrake family members is that Wilkins drew a doughboy sketch and gave it to the plant manager. The manager then passed it along to the Minneapolis Pillsbury headquarters. From there it is unknown just what happened to the sketch.

Later, Wilkins was offered a promotion within the Pillsbury Company, but would have had to relocate to the headquarters in Minneapolis. He and his family decided to take a pass on the opportunity. In 1962 or 1963, Wynn shifted gears in life and took another full-time job away from Pillsbury. For the rest of Wynn's working life, he would utilize his artistic talents in various ways.

Recent interviews with family members of Wynn Wilkins and James Shrake (and) several former Springfield Pillsbury employees, along with sketches and memorabilia from the families, has led to the plausible conclusion that Wynn Wilkins is the original artist of the "Bicep Doughboy" that has been found at the former Springfield Pillsbury plant.

We (MPF) understand that this narrative is counter to the doughboy origin narrative that has been put forth by others over the years. Clearly, the timing involved in the Wynn Wilkins origination story pre-dates the famous 1965 doughboy origination story from the Leo Burnett team. The two origin stories are in direct conflict with each other.

Can the Wynn Wilkins doughboy origination story be proven? Not Likely. Short of a Wynn Wilkins signed and dated doughboy, proof of origination is unlikely.

Can the Wynn Wilkins doughboy origination story be strengthened with more research? Yes.

Additional research will possibly strengthen the plausible conclusion that artist and former Pillsbury employee Wynn Wilkins created the original doughboy image that was later crafted into a worldwide Pillsbury Company icon by the Leo Burnett team in 1965. It is likely that additional evidence can be found by conducting further investigations and collecting more information. Documentation through former employee interviews, archive searches, and personal records searches still need to take place.

The story presented here represents a fascinating new line of consideration for the true origin story of the iconic Pillsbury Doughboy. Since 1965 the famous Pillsbury Doughboy origin story from the Leo Burnett team has been widely accepted. No alternative existed until now. The newly exposed origin story with Wynn Wilkins as the artist is a credible and believable alternative. It is hard to know now which one is historically most accurate. What we do know is that the origin of the iconic Pillsbury Doughboy just became more interesting than ever.

Thanks to all who have contributed to this exciting adventure. Please, continue forwarding any new leads (images, information, documentation, etc.) that may bring historic clarity to the true origin of the iconic Pillsbury Doughboy.
The Pillsbury web site says Perz created the Doughboy, named "Poppin' Fresh," in March 1965. The Doughboy's first commercial aired the following Nov. 7 (the first person to voice the Poppin' Fresh character was Paul Frees, also known as the voice of cartoon villain Boris Bad Badenov of "The Adventures of Rocky and Bullwinkle").
After leaving Pillsbury, Wynn Wilkins worked as a salesman for Friendly Chevrolet and for Ampex Computer Products and Sangamon State University. He also was an antique dealer. James Shrake retired from Pillsbury in 1981, after 38 years of service. Both are buried at Camp Butler National Cemetery.
Update statement, April 12, 2023, from Chris Richmond and Moving Pillsbury Forward
Friends

Although it is a bit anticlimactic, we now know that the recently found "Bicep Doughboy" image was born in July of 1981.  We successfully contacted the panel manufacturer (Automated Display Incorporated) after finding the panel model and serial numbers.  The panel was created by the ADI team under contract from Pillsbury.  The Pillsbury Company provided the Bicep Doughboy image for integration into the panel graphic.  Clearly, the image was included as a symbol of pride in manufacturing at the Springfield plant.  It speaks well to the company culture that existed.  The image embodies everything we have heard from former Pillsbury employees…the Springfield plant was a great place to work, and many fond memories still exist.

Sooo…What does this mean for the doughboy origination story that has spawned from this research?  Was the original doughboy created here in Springfield by an employee at the plant in the late 1950's?  Well, it is still quite plausible that Wynn "Wilky" Wilkins created the original doughboy image here in Springfield.

The circumstantial evidence is strong.  Wynn worked at the Springfield plant as a teen then served in the Navy during WWII.  He returned to work at Pillsbury in 1946, had art schooling, and is listed in the 1955 Springfield Safety Circle published at the local plant as "artist".  He clearly had the training and talent.  There are many examples of his works.  His best friend, Jim "Jaws" Shrake, told many people that Wynn was the originator and is said to have tried to convince Wynn to take credit for it. Several former employees at the plant also believe that Wynn was the originator.

What is missing here?  Wynn not taking credit is missing.  He was a salaried supervisor by the late 1950's and may have felt that it was simply a part of his job.  Afterall, he produced many images during his time at Pillsbury.  It wasn't until later, in 1965, that the doughboy became a big hit in advertising.  Wynn left employment at Pillsbury in late 1962 or early 1963.  He had moved on to other things by 1965.  He passed away in 2010.

What else is missing?  A signed and dated Wynn "Wilky" Wilkins doughboy image.  We don't yet have a doughboy image that can be tied to Wynn directly.  Is there one (or more) that exists?  Maybe.  His descendants have not been able to find one.  Former employees at the Springfield plant kept many of his cartoon images but there are no doughboys included.

So where does this leave us?  We will continue looking for a doughboy image that can be tied directly to Wynn Wilkins.  There is still a chance that there is one (or more) out there.  We will also document former employee stories.  It is hard to know where these will lead.  The history here is fascinating.

We must also note that another former employee has been researched as a possible originator of the doughboy.  George Colin was tagged in conversations early in our research.  He worked at the Springfield Pillsbury plant from 1948 to 1975 and went on to become a well-known folk artist.  His life story is well recorded.  His existing family was contacted.  They had no evidence, images or stories, from George Colin to support his being the doughboy originator.

Thanks for being a part of the Pillsbury Project,

MPF Research Team
More: Pillsbury Mills in Springfield.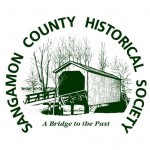 Contributor: Chris Richmond, president of Moving Pillsbury Forward. Statement reprinted with permission.
Original content copyright Sangamon County Historical Society. You are free to republish this content as long as credit is given to the Society. Learn how to support the Society.