Erma Garrison Templeman was the first woman to practice law in Sangamon County. She wasn't, however, the first to pass the bar exam; at least two other women beat her to that distinction. All three had noteworthy life stories, good and bad.
Erma Templeman, first practicing lawyer
Erma Garrison Templeman (1878-1974), born near Centralia, met her eventual husband, J.W. (James) Templeman, in Fairfield, where she was teaching high school and he was a teacher, principal and later school superintendent. They married in 1900 and decided a few years later that both would study law – while also raising the first two of their three children.
The Templemans attended Chicago-Kent College of Law together, and both took the Illinois bar examination in 1907. (J.W. was elected a state representative from southeastern Illinois in 1906, but the couple had decided to live in Springfield after his term was over.)
John Lupton of the Illinois Supreme Court Historic Preservation Commission described Erma Templeman's career in a presentation in 2012. Templeman family lore, Lupton said, "has it that while Erma took the bar exam, toddler James was sitting on the floor against her leg while baby Veda sat on her lap."
The Templemans received their law licenses on Dec. 11, 1907 – Erma was the 110th Illinois woman to do so, Lupton reported. They opened their first law office, in partnership with Erma Templeman's brother, Howard Garrison, the next day. "Lady Lawyer to practice here," the Illinois State Register's story said.
Howard Garrison moved west a couple of years later, but the Templemans worked together  until J.W. Templeman died in 1955. Erma Templeman gave up her law practice at the same time.
The Templemans specialized in wills and real estate law, according to their advertisements, but they sometimes took other cases as well. J.W. Templeman acted as defense attorney for three Jacksonville men accused in 1939 of sticking up the Ashland State Bank, for instance.
Erma Templeman discussed her views of lawyers' roles and the legal system in an Illinois State Journal interview the same year.
"Law work seems to give greater opportunity to see more types of people and to have a more intimate relationship with them than any other field offers. A lawyer must make her clients' troubles her own," she said of her profession.

"Lawyers soon appreciate the meaning of the phrase 'innocent until proven guilty.' In the majority of cases, the accused person is innocent," she added.
Despite her groundbreaking legal work, Erma Templeman was better known for forming the Springfield Business and Professional Women's Club and later the Illinois Federation of BPW. She served five years as president of the Springfield BPW and was state BPW president from 1927 to 1929. She was a "firm believer in club work," Illinois State Journal writer Julie Cellini reported in 1967.
Mrs. Templeman recalls seeing many women "brought out of themselves by a simple committee assignment." The ideal clubwoman to her is "one who knows the women around her and gives them a chance to prove their worth."

She feels that prejudice against women is less now, but she cannot recall hearing a man ever tell her to stick to housework and leave community work to men. "I guess they wanted to tell me that, but they knew they just better not!" she laughed.
Among other honors, Erma Templeman was in the first volume ever published of Who's Who Among American Women. Erma and J.W. Templeman are buried at Oak Ridge Cemetery.
Notes: Some misinformation circulates about Erma Garrison Templeman.
As of winter 2023, the Sangamon County Circuit Clerk's office website listed the county's first practicing female attorney as Erma TempleTON.
The circuit clerk, state Supreme Court historian John Lupton and State Journal-Register columnist Dave Bakke (in 2012) all have reported that the Templemans' law office was based in the Reisch Building on the west side of the Old Capitol Plaza. The Templemans indeed once had an office there, but, for unknown reasons, they seem to have relocated frequently. A cursory search of city directories found at least six different buildings where the Templemans worked. There's no obvious reason to connect them particularly to the Reisch Building.
The Templemans' professional relationship is unclear and may have changed over time. They were identified as partners when they opened their first office with Howard Garrison in 1907, and a series of advertisements in 1921 suggested Templeman & Templeman was a partnership. J.W. Templeman's 1955 obituary also says the couple practiced law "as Templeman & Templeman." However, the Journal's 1939 interview of Erma Templeman said the couple "share an office, but are not business partners."
Margaret Taylor Shutt, first licensed lawyer
Margaret Taylor Shutt (1868-1903) was the first Sangamon County woman to obtain a law license, although she never practiced. Shutt was admitted to the bar on Nov. 21, 1895, making her the 55th woman to do so in Illinois history.
Shutt, the daughter of lawyer, Springfield mayor and state senator William Shutt, graduated from the Bettie Stuart Institute and then "read law" before taking the bar exam in 1894. ("Reading law" usually meant working with a qualified attorney as an informal alternative to law school; Shutt probably read law with her father.)
Instead of a legal career, however, she turned to medicine. Another physician (and Springfield historian) Dr. Floyd Barringer, wrote about her in a 1983 pamphlet, Dr. Margaret Taylor Shutt: Tribute to a Forgotten Physician:
Soon after admission to the bar she became interested in medicine and entered the Woman's Medical College of Pennsylvania, where she obtained a part of her medical training. She then entered Cornell Medical Department and was graduated in 1899 on the honor roll. A few days after graduation she took the New York State Examination and received the highest honor, the purple seal.
Shutt returned to Springfield, where she was appointed pathologist at St. John's Hospital. "The establishment of a laboratory in the hospital for research work was largely due to her efforts," Barringer wrote. Shutt also was active in medical organizations, including serving a term as vice president of the Sangamon County Medical Society in 1902 and presenting papers to both the Illinois and American medical societies.
Shutt, however, died of typhoid fever in January 1903. Barringer said she may have  contracted the disease when she autopsied the body of a typhoid victim who died in November 1902. She is buried at Oak Ridge.
More: Barringer's monograph on Margaret Taylor Shutt can be read at Lincoln Library's Sangamon Valley Collection. 
Daisy Mullen Corris, shooting death scandal
Daisy Mullen Corris (1878-1914) may have been the second Sangamon County woman to pass the bar exam. She did so, apparently with flying colors, in 1906, a year earlier than Erma Templeman. Corris, however, apparently never sought a law license; she seems to have used her degree only as an extra qualification for her profession as stenographer and court reporter.
Corris was a well-connected local stenographer under her maiden name (which was spelled several different ways in Springfield newspapers, including "Millin" and "Mullin"). Before marriage, she worked as a stenographer in the secretary of state's office and as official court reporter in the Illinois Supreme Court. She also reported many state conventions for the Associated Press, according to her Findagrave.com obituary.
Both she and her future husband, William "Will" Corris (1876-1932), made Page 1 news on July 5, 1911, when Corris shot Mullen's father to death at the Mullen family farm northwest of Springfield.
Corris, a Chicago-based stenographer, had come to the farm so he and Daisy Mullen could work together on transcripts of hearings into a legislative bribery scandal. (The two also were instructors in an "Expert Shorthand School," according to newspaper ads.)
Mullen's father, William (1853-1911), was divorced from her mother, Sarah (1852-1919). For lack of anywhere else, however, he still lived at the farm, sleeping in the barn (or, on hot nights, on a cot in the farm's potato patch), according to later testimony.
Mullen, who was drunk, started the fight by verbally abusing both his wife and daughter, the two women told authorities. Corris stepped in, first arming himself with a baseball bat. Mullen went to the barn and came back with a corn knife, the women said. Sarah Mullen, meanwhile, had retrieved her former husband's shotgun, loaded with birdshot, and gave it to Corris.
William Mullen was running at Corris with the corn knife, the three said, when Corris fired one shot from the gun, hitting Mullen in the stomach. Mullen died on the operating table at St. John's Hospital.
A coroner's jury found that Corris acted in self-defense. He was never prosecuted.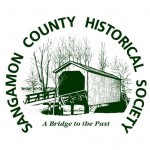 Daisy Mullen married Will Corris in 1913. However, she died of a chronic illness in Florida in April 1914. She and both her parents are buried at Oak Ridge. Her husband, who remarried, is buried at Forest Lawn Cemetery, Los Angeles, Cal.
Original content copyright Sangamon County Historical Society. You are free to republish this content as long as credit is given to the Society. Learn how to support the Society.