Young veterans and their families filled all 281 Garden Court duplexes within six months after they opened in 1950.
Each renter occupied half of a duplex in a winding development south and east of the 2500 block of East Cook Street. Demand for housing had exploded after World War II, and Garden Court offered what had been a rare luxury to former soldiers and their spouses: privacy. The Illinois State Journal described the apartments in a story shortly before the first tenants moved in.
Each of the duplexes in the project is composed of two 4-room, two-story homes, two bedrooms and a bath upstairs and a living room and kitchen on the first floor. Seventy-two inch sinks and Kitchen Maid wall cabinets and linoleum covered floors in kitchen and bath, along with divided basements with duplicate gas furnaces and water heaters are features of the apartments. …

There are no occupancy restrictions on children or pets and applications are now being taken for occupancy in the immediate future.
Garden Court's developer was General Construction Co., an outgrowth of the Barker-Lubin Co., which sold lumber and home building products and played a major role in expanding Springfield housing stock in the 1950s and ensuing decades. The $2.1 million mortgage that financed Garden Court was, at the time, the largest ever recorded in Sangamon County.
Mayor Harry Eielson cut the ribbon to welcome Garden Court's first tenants, Edwin and Mary Kathryn Wenning and their two sons, on June 4, 1950. Dozens more families followed in short order, averaging almost 10 a week.
"We are about rented out," Garden Court advertisements warned in December, "and can accommodate only a limited number of additional families to enjoy all the comforts of their own home." By March 1951, prospective new tenants had to go on a waiting list.
The Journal said Garden Court had an important role to play in Springfield.
Mere statistics, newspaper accounts and economic discussions cannot begin to convey the real value of these new homes in making our city a better place for more people to live happier lives because of better homes. We commend all who have combined talents and labor to make Garden Court a blooming success.
Garden Court fell on harder times in the 1980s. Federal housing subsidies meant low-income residents filled more of the duplexes, and by 1985, when the Barker family sold the project, fewer than half the apartments were occupied. The new owner, Garden Court Associates, a company connected to political figure William Cellini Sr., spent an estimated $500,000 to update the apartments, which were renamed Evergreen Terrace. (This paragraph has been edited to clarify aspects of Garden Court's history and the ownership change.) 
Evergreen Terrace got a reputation for crime and decay, however, and the complex was sold again in 1998 and renamed Poplar Place. Despite further renovations and management changes, Poplar Place in 2022 still fell far short of the optimistic outlook Garden Court enjoyed in 1950.
Update: Poplar Place's owner, Related Midwest, announced a $38 million renovation plan in November 2022. "A number of units will be bulldozed while others will be totally gutted and renovated … leaving 50 single-family housing units and 25 duplex units," a State Journal-Register story said.
Pasfield Park Place/Barker-Lubin Co.
Also in 1950, the Barker-Lubin Co. started construction on the first phase of its Pasfield Park Place subdivision – 16 buildings with 62 "deluxe" apartments southwest of Chatham Road and Lawrence Avenue. Pasfield Park Place's apartments were considerably more upscale than those of Garden Court – the brick colonial-style buildings were to be spread over 6½ acres and would "be placed to take maximum advantage of prevailing breezes and sunshine," Barker-Lubin said.
"The building of these apartments will make the first opportunity for Springfield's apartment dwellers to live in a suburban residential neighborhood," the company said.
Over the next several decades, Pasfield Park Place would add hundreds of single-family homes and grow to be one of Springfield's largest residential developments.
The Barker-Lubin Co. was one of the major contributors to Springfield's post-World War II growth. Adolph Lubin, one of the firm's founders, outlined the company's history in a speech to Rotarians in September 1950. The Illinois State Journal reported on the talk.
Lubin (1889-1970) said he arrived in Springfield in 1923.
From a scrap yard at Tenth and Mason Sts., Lubin explained, the company has expanded to include salvage operations, used lumber and building materials, new building materials, mass housing projects and, most recently, apartment rental units.

At present there are four separate units that are outgrowths of the original firm of Barker, Goldman & Lubin. Saul Goldman (1893-1977) now heads the Central Iron & Metal Co.; Morton D. Barker (1888-1967) and Lubin head the organization that bears their name; Cornelius "Nick" Haag (1906-87) is president of the Building Supply Co.; and Edward L. Pruitt (1918-83) is president of the Metal Air Corp. …

Lubin stated that in the last five years, the General Construction Co., under their direction, has built about 1,500 homes in Springfield, valued at about $12,000,000. Their rental construction project, Garden Court, located on E. Cook St., is the latest project being completed by the organization.

Growth of Springfield is phenomenal, Lubin stated, and if one travels to any part of the city he can see sections that are expanding tremendously. "There is a lot going on in Springfield that the 1950 census did not reveal," he said.

(Birth and death dates above added by SangamonLink.)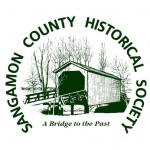 Barker-Lubin sold its lumber and building materials operations, including the yard office at 19th and Carpenter streeets, in 1984. CEO Bob Barker said the sale would allow the Barker family to concentrate on its real estate investments.
Original content copyright Sangamon County Historical Society. You are free to republish this content as long as credit is given to the Society. Learn how to support the Society.