At least three local institutions are documenting the Covid-19 pandemic and its impact on individuals in Illinois as it happens. Representatives of all three gave presentations May 17, 2022, to the Sangamon County Historical Society. Results from two of the three were available online at the time of the presentations.
*Amanda Bryden, registrar for history at the Illinois State Museum, discussed the museum's "Illinois Stories – Covid." See it here.
*Amanda Riggenbach, project manager for the Abraham Lincoln Presidential Library and Museum presented information on that institution's pandemic project, "Tumultuous 2020." See it here.
*The University of Illinois Springfield is still in the process of collecting stories, artwork and other material as part of its "UIS Covid-19 Project." UIS is limiting its participants to students, faculty and other members of the college community. UIS's materials are expected to be released in August, according to Anne Moseley, who discussed the project for the historical society.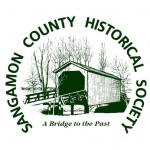 Original content copyright Sangamon County Historical Society. You are free to republish this content as long as credit is given to the Society. Learn how to support the Society.