Rauch's Mill was on Sugar Creek west of Thayer and south of modern-day Foster Road. The operation was one of the earliest mills on Sugar Creek and also was the farthest upstream.
On Dec. 9, 1829, Jacob Rauch petitioned the Sangamon County Commissioners to construct a milldam across Sugar Creek in the northwest quarter of section 33. One 19th-century county history states that Rauch built a combination saw and gristmill.
John Mack Faragher noted that Rauch's Mill was located on the road between Springfield and St. Louis. The mill "became widely known for the hospitality of its German-born proprietor," Faragher reported in his Sugar Creek: Life on the Illinois Prairie (Yale University Press, 1986), "and soon became a center for settlers in the southern part of the county.
After Jacob Rauch's death in 1843, his widow, Pauline Poley Rauch, assumed the operation of the mill. Their sons, Charles and Andrew, managed the mill in the 1850s. They eventually added steam power and operated the mill into the 1870s.
Contributor: Curtis Mann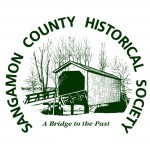 Original content copyright Sangamon County Historical Society. You are free to republish this content as long as credit is given to the Society.