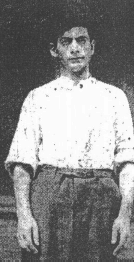 Charges against Abraham Raymer, 20, served as test cases to determine whether Sangamon County juries would convict anyone of serious crimes resulting from the the Springfield race riot on Aug. 14-15, 1908. The answer, authorities ultimately decided, was "No".
Raymer was suspected of playing a major role in nearly all of the most serious riot violence: the lynchings of both Scott Burton and William Donnegan, the destruction of Harry Loper's restaurant, and the arsons that destroyed dozens of homes and businesses belonging to blacks. Arrested after the Donnegan killing, Raymer reportedly was badly beaten by police. "(T)he blows given him and his screams for mercy,  as well as the officers'  threats to kill him if he did not tell more, could plainly be heard from without," the Illinois State Register reported Aug. 21.
Whatever Raymer's role in the riot, he may have been an inviting target for prosecutors for other reasons. Unlike many riot suspects, he had no local roots and had been in Springfield only briefly — in fact, he was a Russian Jewish immigrant (something the local papers mentioned frequently), and he spoke with a noticeable accent.
Nevertheless, despite what prosecutors said was overwhelming evidence against him, white juries acquitted Raymer three times — of murdering Donnegan, of being in the mob that attacked Loper's, and of rioting. He finally was convicted of a fourth charge — stealing a sword belonging to Illinois National Guard Maj. Otis Duncan (who, promoted to lieutenant colonel, would become the highest-ranking black officer to serve in World War I). Raymer was sentenced to pay a $25 fine and serve 30 days in jail.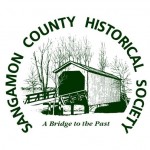 The failure of the Raymer prosecutions led authorities the following June to drop charges against all those, both white and black, who still faced prosecution in connection with the riots. (One rioter, 15-year-old Roy Young, had admitted stealing guns from a pawnshop and setting fire to black homes and was sentenced to the state reformatory.)
Original content copyright Sangamon County Historical Society. You are free to republish this content as long as credit is given to the Society. Learn how to support the Society.