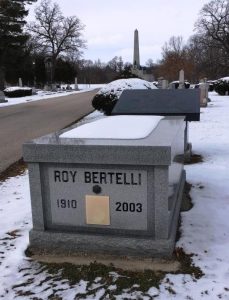 Roy Bertelli's mortal remains are at Oak Ridge Cemetery. His accordion is not. The internet is wrong on both counts. (Who could have guessed?)
Bertelli (1910-2003), who called himself "Mr. Accordion," gained local fame in 1997, when he paid $30,000 to have his one-person mausoleum erected just inside the Monument Avenue entrance to Oak Ridge. The memorial includes an engraving of Bertelli's favorite instrument, with the words "Lifetime Dedication to the Accordion."
Bertelli first heard accordion music at a food show during his senior year in high school, he told State Journal-Register reporter Lisa Kernek in 1998.
"Have you ever been in love? Did you ever love anybody? That's what it was like," he said. …

It's a passion that has outlasted jobs at a factory and landscape nursery, service in World War II and two wives.
In the 1950s and '60s, Bertelli told Kernek, he performed regularly in clubs, concerts and conventions, even including live performances with Lawrence Welk. He also had a thriving business teaching accordion back then, when, as Kernek wrote, "practically every child had an accordion and a bike."
The location, size and design of Bertelli's mausoleum caused a minor controversy when it was built.
"(T)he dignity of the entrance to Oak Ridge Cemetery has been compromised," Von Carroll of Springfield wrote in a March 1998 letter to The State Journal-Register. "The crisp and inspiring view to Mr. Lincoln's tomb has been altered. …
"So roll out the calliope!" Carroll concluded. "Turn on the neons! We're having fun now."
Bertelli responded in his own letter to the editor (Bertelli letters on a variety of topics were a semi-regular feature of the SJ-R's op-ed pages).
First and foremost, my project was carefully designed and constructed to exact specifications by professionals to meet full approval by the cemetery. …

Mr. Carroll clearly attempts to ridicule and defame my reputation and the character of my musical profession, which I strongly resent. He calls accordion an inanimate object? Has he ever heard of Lawrence Welk, Dick Contino, Frank Yankovic? Ignorance is bliss!
The mausoleum stayed, and Bertelli was even featured in a segment on Comedy Central's "The Daily Show" in 1999.
Upon his death in March 2003, Bertelli was cremated and his ashes interred in the mausoleum. SJ-R reporter John Reynolds wrote that story.
What may be the second-most famous tomb at Oak Ridge Cemetery now holds the remains of its owner.

Roy Bertelli, also known as "Mr. Accordion," died Saturday at the age of 92. On Thursday, his ashes were placed inside his mausoleum, which lies in the shadow of Lincoln's Tomb.

Murphy (Brian Murphy, manager of Vancil Memorial Funeral Chapel) added that Bertelli had requested that one of his accordions be buried with him, but the cemetery denied that request.

LuAnn Johnson, executive director of Oak Ridge Cemetery, said the cemetery's rules state the facility is only for human burial.

"It's just part of our rules and regulations," Johnson said.
Internet rumors continue to circulate, however, to the effect that Bertelli – mad at Oak Ridge because he wasn't allowed to have an accordion with him in the memorial and by the cemetery's earlier refusal to allow chains and boulders to outline the mausoleum site – decided not to use the mausoleum after all.
According to those stories, which seem mainly to be propagated by old posts on mentalfloss.com and RoadsideAmerica.com, Bertelli instead is buried at Camp Butler National Cemetery. Some versions add the claim that, as a last word, Bertelli had one of his accordions burnt and those ashes placed in the Oak Ridge mausoleum. Even the usually reliable findagrave.com suggests the story might be true.
The personal testimony of the Springfield funeral and cemetery officials involved in Bertelli's interment ought to be enough to disprove the internet's hearsay. It's also ludicrous to think Bertelli, a lifelong careful spender, would have thrown away the $30,000 he spent to create such a prominent memorial at Oak Ridge.
But the claim that Bertelli, in a moment of spite, had himself buried at Camp Butler is most easily disproved by National Cemetery Administration records, which are available online: No one named Roy Bertelli is buried anywhere in the national cemetery system.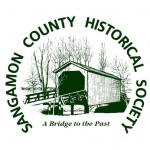 Hat tip (if you want to call it that): SangamonLink was reminded of the Bertelli burial rumors by a remarkably unreliable recent book about Oak Ridge burials: Not Just Lincoln's Tomb Oak Ridge Cemetery: A Walk Through Illinois History by Robert Lawson (2020). Lawson falls for the alleged Camp Butler switch hook, line and sinker.
Original content copyright Sangamon County Historical Society. You are free to republish this content as long as credit is given to the Society. Learn how to support the Society.