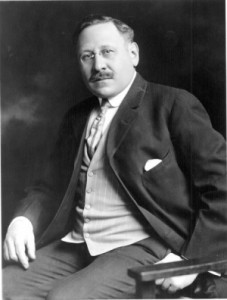 This entry has been revised in light of new efforts to recognize Julius Rosenwald's charitable and other contributions on both the local and national levels.
Julius Rosenwald (1862-1932), a Springfield native, teamed with Richard Sears to build Sears, Roebuck & Co. into one of the great merchandising successes of the early 20th century. He also became one of the nation's most generous and innovative philanthropists, supporting schools, colleges, Jewish charities and initiatives to improve the lives of African Americans.
Rosenwald, the son of clothing merchant Samuel Rosenwald and his wife, Augusta Hammerslough Rosenwald, was born in a house at 413 S. Eighth St., across from Abraham and Mary Lincoln's Springfield home.  (The building now houses offices of the National Park Service at the Lincoln Home National Historic Site. Formerly known as the Lyon House, it was renamed in ceremonies held on Lincoln's birthday 2020; its new title is the Boyhood Home of Julius Rosenwald.)
Samuel and Augusta Rosenwald came to Springfield in spring 1861, and Samuel went to work at the Capitol Clothing House, operated by the Hammerslough family.
As a boy, Julius Rosenwald held a variety of jobs, including, briefly, working as an organ grinder for the Congregational church. When the Lincoln Tomb was dedicated in October 1874, the 12-year-old Julius sold brochures about the memorial. He made $2.50, but his most vivid memory later was "the sight of President Grant, who sat in an open carriage that day and wore yellow kid gloves. The merchant's son was already developing the eye of a clothier and the energetic ways of a salesman."
Rosenwald left Springfield at age 17 for New York City and then Chicago, where he met his wife, Augusta. Through a brother-in-law, Rosenwald was offered the opportunity in 1895 to invest in catalog merchant Sears, Roebuck. He said later the decision was "made and acted on in five minutes."
Richard Sears, a merchandising genius, wrote the company's catalog entries, while Rosenwald saw to day-to-day operations and customer service, both of which had been haphazard before his entry into the business. Annual sales climbed from $750,000 in 1895 to $50 million in 1907. Richard Sears retired in 1908, but under Rosenwald's solo leadership, the company's sales continued to grow, to $245 million by 1920.
In the meantime, Sears, Roebuck also pioneered a variety of employee benefits, including sick pay, paid vacation and paid time off for military service, and employee stock offerings.
The Sears Archives sums up Rosenwald's career with the firm;
From the moment he joined Sears, Roebuck and Co., Rosenwald's abilities meshed amazingly well with those of Richard Sears. He brought a rational management philosophy to Richard Sears' well-tuned sales instincts. From 1895 to 1907, annual sales skyrocketed from $750,000 to $50 million. In 1908, Rosenwald was named president when Richard Sears resigned. Rosenwald continued to serve as president until 1924, when he became chairman of the board, a position he held until his death in 1932.

After World War I, Sears was in dire financial shape and Rosenwald brought Sears back from the brink of bankruptcy by pledging some $21 million of his personal fortune, in cash, stock and other assets to rescue the company. By 1922, Sears had regained financial stability.

Rosenwald insisted that the company's primary goal must be responsibility to the customer. He established the "satisfaction guaranteed or your money back" pledge and conducted his business dealings by the creed "Sell honest merchandise for less money and more people will buy." Under Rosenwald's direction, the business positioned itself as a direct extension of the farmer's eyes, ears and wallet, making purchasing decisions in the best interests of the farmer.
Rosenwald retired as Sears, Roebuck president in 1924 to become chairman of the board and to devote  much of the rest of his life to charity. In that connection, he became best known for working with Booker T. Washington to create "Rosenwald schools" to improve African American education in the South. History South explained the concept:
Together, the idea-man (Washington) and the moneyman (Rosenwald) hammered out an early example of a now-common philanthropic tool: the matching grant. If a rural black community could scrape together a contribution, and if the white school board would agree to operate the facility, Rosenwald would contribute cash – usually about 1/5 of the total project.

The aim was quietly radical, a Rosenwald Fund official later wrote; 'not merely a series of schoolhouses, but … a community enterprise in cooperation between citizens and officials, white and colored. …

By 1932, when the construction grants ended, 5357 new buildings stood in 883 counties throughout fifteen Southern states. Most were schools, but workshops and teachers homes also occasionally received funding. … The schools came in all sizes from little one-teacher units all the way up to seven-teacher facilities that offered full instruction from first grade through high school.
After 1932, the Rosenwald Fund gave scholarships to "promising black thinkers"; recipients eventually included Ralph Ellison, who wrote his classic Invisible Man with the help of a Rosenwald Fellowship.
Rosenwald also donated funds to add libraries to 4,000 existing schools.
In addition to his educational charities, Rosenwald donated matching funds to build YMCAs for African Americans — his gifts to that effort, totaling more than $600,000, helped build 25 such YMCAs. Rosenwald also was instrumental in organizing social services for impoverished Jewish immigrants to Chicago. He served as the first president of  the Jewish Charities of Chicago, predecessor of today's Jewish Federation of Metropolitan Chicago. The federation's most prestigious award is named after Rosenwald.
He also was the driving force behind the creation of Chicago's Museum of Science and Industry, although, when the museum board tried to name the institution after him, Rosenwald declined the honor.
When all his charities are assessed, Rosenwald is estimated to have given away more than $63 million during his lifetime.
Rosenwald is buried in Chicago's Rosehill Cemetery.
The Springfield Rosenwald Initiative, which was involved in the 2020 movement to recognize Julius Rosenwald at the Lincoln Home National Historic Site, is part of a nationwide campaign to create the Julius Rosenwald and Rosenwald Schools National Historic Park. The park, which would be the first to commemorate the life and legacy of a Jewish American, would include multiple sites around the U.S.
Note: This entry has been edited to remove the statement that Julius Hammerslough, Julius Rosenwald's father-in-law, was among the delegation that escorted President Lincoln's body back to Springfield on the funeral train. Contemporary sources do not support that claim.
More information: Books and other literature about Julius Rosenwald are plentiful. A film, Rosenwald, by Aviva  Kempner, produced in 2015, also has been instrumental in reviving interest in the Rosenwald legacy.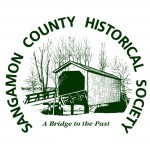 Original content copyright Sangamon County Historical Society. You are free to republish this content as long as credit is given to the Society. Learn how to support the Society.