An empty stretch of highway near Auburn might be Sangamon County's most obscure historic site.
The Auburn Brick Road, which was placed on the National Register of Historic Places in 1998, draws what few visitors it does because it was briefly part of Route 66. But it's listed on the National Register  because of its value to engineering history, not its Mother Road connection.
The Auburn Brick Road is west of Illinois 4 just north of Auburn. The east/west segment is part of Snell Road, while a north-south section is part of Curran Road. The two segments are connected by an unnamed curve.
The road dates from 1920, when the state of Illinois laid a 16-foot-wide concrete pavement, part of a project to build a hard road from Chicago through Springfield to East St. Louis. According to its National Register registration form:
In 1926, this road segment became part of the new Federal Highway System when it was designated Route 66. It held this distinction until 1930 when Route 66 was relocated to the east in an effort to bypass more municipalities. This was deemed necessary by the Division of Highways to allow traffic to flow through the state with less obstacles to slow the journey.
Most of the road was widened and surfaced with brick in 1932, the form says.
(T)he brick had to be laid by hand, a difficult, time-consuming project. Records show no reason for resurfacing the rural 1.53 miles of Illinois Route 4 north of Auburn with brick. … Whatever the reason, the brick road north of Auburn is a good example of brick road building. The road and bridges, cross-section template, culverts and gradings are virtually as they were in 1932.
The road's two bridges, both of which carry it over meandering Panther Creek, were part of the 1920 project. They also were important to the road's Historic Places designation.
"Reinforced concrete, through-girder bridges … were generally built between 1906 and 1920," according to the registration document. "Although hundreds of these bridges were built in the state, many were replaced due to their narrow width."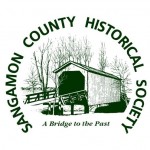 Aside from signs on today's Illinois 4 noting that the road once was part of Route 66, there's no marker or other interpretive material along the Auburn Brick Road and no indication of its position on the National Register of Historic Places.
Location information: From Springfield or Chatham, the easiest access to the Auburn Brick Road is to turn west (right) off Illinois 4 at Snell Road (GPS 39.618111, -89.739056).  
Original content copyright Sangamon County Historical Society. You are free to republish this content as long as credit is given to the Society. Learn how to support the Society.