As a newsman, Edward L. Baker delivered two of the biggest stories of the 19th century to Springfield. As a diplomat, Baker was too good to remove, no matter which party controlled the federal government.
"Ned" Baker (1829-97) was only 26 years old in 1855, when he and a partner, William Bailhache (1826-1905) moved from Alton to buy the Illinois State Journal from its founders, the Francis brothers. The new owners, like the old ones, were close political allies of Abraham Lincoln and, like Lincoln, were Whigs until that party broke into pro- and anti-slavery factions. The Journal then joined Lincoln in supporting the new Republican Party.
Lincoln was at the Journal office on May 18, 1860, when delegates to the Republican National Convention in Chicago were voting on a presidential candidate. Andy Van Meter described the scene in his history of the State Journal-Register, Always My Friend (1981):
In editor Baker's office, the small coterie settled into chairs. Lincoln chose a low-slung wicker from which his long legs stretched into the middle of the room. Baker, a bit nervous, announced he would go and see if the next dispatch had arrived; Davis and Zane (Bill Davis and William Zane, friends of Lincoln – ed.) offered to accompany him. At the telegraph, news of the third ballot was just coming in. Baker snatched the telegram and rushed back to his office, saying only that it looked "darned bad." A crowd had gathered in front of the Journal building. Baker pushed his way through, bounded into his office and handed the telegram to his old friend. Lincoln read:

"We did it. Glory to God."
Baker also was on duty for sadder news as the Civil War ended five years later. Van Meter again:
Over at the Journal, Ned Baker found himself working later and later to get the most recent reports in his paper's morning edition.

Baker was still working at 3 o'clock in the morning on Saturday, April 15, inspecting the fourth form of type in preparation for printing that days' paper. The boys in the office could handle the press work; he was anxious to get home as soon as this last form passed its final inspection. A messenger from the telegraph office appeared and handed him yet another dispatch.

He read: "Washington, April 15, 12:30 a.m. – the President was shot in a theater tonight and is probably mortally wounded."

Baker could not believe it. He rushed to lawyer William Conkling's office to unburden himself of the news. Conkling, too, was incredulous. The two men returned to the Journal building to await the next bulletin:

"The President is not expected to live through the night. He was shot at the theater. Secretary Seward was also assassinated. No arteries were cut. Particulars soon."

Within hours, Springfield awoke to read the news:

"President Lincoln Assassinated!"
As a prominent friend of Lincoln, Baker was a member of the committee of reception when the president's body was returned to Springfield.
Baker stepped down as editor of the Journal in 1874 to accept President U.S. Grant's appointment as U.S. consul in Buenos Aires, Argentina. He never returned to Springfield while alive.
As consul, mainly dealing in trade affairs at the port of Buenos Aires, Baker apparently was both popular and competent. According to an account in the English-language Buenos Ayres (sic) Standard after Baker's funeral there:
Mr. Baker had not been located in Buenos Ayres long before his adaptability for the position which he filled manifested itself, and the merchants of Buenos Ayres, the captains of vessels trading with the states, and the department of state at Washington found him a consul standing far above the average in ability.

For many years the reports of Mr. Baker have been accepted as authoritative on the matters treated in them, and many times the department of state has requested him to make special reports on various matters such as a consul would not generally be expected to deal with. This he did in such a satisfactory manner that he has received letters of thanks and congratulation from more than one secretary of state.
Although appointed by Grant, a Republican, Baker was retained by Democratic President Grover Cleveland after both of Cleveland's elections (in 1885 and 1893), as well as by four other Republicans.
Baker was serving in his eighth presidential administration when he was fatally injured in a train station accident. No one saw what happened, but Baker was crushed when he apparently slipped off the platform while trying to a board a moving train.
Baker's body was returned to Springfield. He is buried at Oak Ridge Cemetery in a circle of graves that surround the monument to Ninian Edwards, who was governor of Illinois both when it was a territory and state. Baker's wife, Julia Cook Edwards Baker (1837-1908), was a granddaughter of Ninian Edwards.
A roadside sign points the way to Baker's tombstone, which features a bronze tablet donated by his friends in Argentina "as a tribute to his abilities as an official of his government and a token of their appreciation of his kindly and generous nature."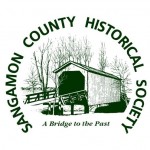 Note: Edward Lewis Baker should not be confused with Edward Dickinson Baker, another friend of Abraham Lincoln. Edward D. Baker, later a U.S. senator from Oregon, was the namesake of Abraham and Mary Lincoln's second son. Edward Baker Lincoln, born in 1846, died at age three.
Original content copyright Sangamon County Historical Society. You are free to republish this content as long as credit is given to the Society. Learn how to support the Society.