Sangamo Town was a settlement on the Sangamon River that for a time rivaled Springfield as a commercial center, but after only 20 years or so was abandoned and all but forgotten.
The man behind Sangamo Town was Moses Broadwell (1764-1827). Born in New Jersey, he was a veteran of the War of Independence who moved to Sangamon County in 1819 or '20. He and his family settled on a farm at the edge of the Richland Creek timber west of Springfield. (The location is now the Broadwell Inn/Clayville Historic Site.)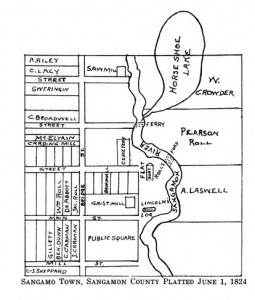 Intending to create, in his own spelling, "a plase of buisnis at some futer day not far distant," Broadwell bought a 320-acre parcel of land on the Sangamon River eight miles northwest of Springfield, had it platted and began selling lots. The infant village, known as Sangamo Town, thrived for a time and at its zenith was home to perhaps 250 people. It included a gristmill, a wool carding mill (powered by oxen on a treadwheel) a general store, a blacksmith shop, a tavern, and a ferry across the river. The plat map at left, compiled by John Linden Roll, was published in the October 1926-January 1927 Journal of the Illinois State Historical Society.
Sangamo Town also served as a shipping port. Commodities such as pork, hemp, lard, and flour were loaded aboard flatboats and keelboats there for markets in St. Louis and New Orleans
In the spring of 1831, Abraham Lincoln and two other men were hired to ship a load of hogs to New Orleans, and the three built their flatboat at Sangamo Town. While Lincoln was there, three young men capsized a canoe in high water. As Lincoln biographer Michael Burlingame recounts the incident, Lincoln shouted to them to swim to a nearby tree and hang on. He then mounted a log, tied a rope around himself, and handed the end to some anxious spectators. Braving the current, he risked his own safety and brought the men ashore.
A number of mishaps dimmed Broadwell's dreams for the place. Lumber bought for a planned bridge was rotten, the bustling village of New Salem took away trade, his partners in a milling company reneged on a pledge to buy half the platted land, and the outlying lots were never paid for. The fatal blow was losing the county seat to Springfield in 1825.
Patrick Allan Pospisek reported the consequences in an examination of the two villages' rivalry written in 2010 for Historical Geography.
Moses Broadwell's original plan for Sangamo had called for a diversified number of industries and a school should the town fail to become the county seat. (But) following the establishment of the permanent county seat in Springfield, not even a grammar school appears to have opened in Sangamo Town. … While a handful of stores, a tavern and a blacksmith operated in Sangamo, few appear to have been entirely satisfied with their prospects.
Moses Broadwell died in 1827, and the unsold lots ended up in the hands of his son, Charles, who went bankrupt and left Sangamon County. By 1833, most of Sangamo Town had been abandoned. For the next 10 years, the former village became strictly a milling center, the only residents being a few mill hands. The last of the mills probably closed in the early 1850s, and the town site reverted to farm fields and pasture.
Robert Mazrim of the Sangamo Archeological Center has explained that the deed records identified only the general location of the town within an approximately 320-acre tract. "Just about everything regarding the place was a cipher—the location, the layout, the number of buildings that were actually built there, the duration of their occupation, and the things that went on inside them. The remaining paper records—a few licenses, some voting records, minor lawsuits, and advertisements for at least one mill and a store—really only told us that a town existed."
In the early 1970s, amateur historian and local physician Dr. Floyd Barringer located a site he believed to be Sangamo Town. What he had found, however, was only a dwelling associated with one of the mills. It was not until the 1990s that the exact location of the town and its structures was known with any exactness, after field investigations by Mazrim.
Contributor: James Krohe Jr.
More information
"Relocating a Lost Town" and "Excavations at Sangamo Town" from The Sangamo Frontier: History and Archaeology in the Shadow of Lincoln by Robert Mazrim. University of Chicago Press, 2006.
"Sangamo Town" by John Linden Roll. Illinois State Historical Society, 1926.
Abraham Lincoln: A Life (Volume 1) by Michael Burlingame, 2008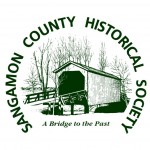 Original content copyright Sangamon County Historical Society. You are free to republish this content as long as credit is given to the Society. Learn how to support the Society.