What to do after a long day – and night – at the Illinois State Fair? The after-fair, after-hours mecca for everyone from carnies to Hell's Angels to local movers and shakers was the Skyrocket Inn, right across the street from Fairgrounds Gate 2 at Sangamon Avenue and  Peoria Road.
The Skyrocket was known as a rowdy place even outside fair week, according to Scott Welsh, son of the tavern's last owners, Peter and Barbara Welsh. That was because of its location just over city limits on Sangamon Avenue, which allowed for a 3 a.m. liquor license.
"People streamed into the Skyrocket after midnight after having been served elsewhere for many hours," Welsh said.
Lithuanian-American Kostie Welch (Wilcauskas) opened the tavern in 1945. The Skyrocket was once one of at least four Lithuanian-owned taverns between 11th and 17th streets on Sangamon Avenue. The area along the southern border of the fairgrounds was known as "Little Lithuania" because it was home to so many Lithuanian families; many of the men worked in nearby coal mines.
in its earliest days, the Skyrocket featured dancing on Sunday nights to the music of The Rocket Trio. The tavern later had dancing every night except Monday and "really good" steak dinners, according to one newspaper ad.
Ulis and Geraldine Rose (who were not Lithuanian – Ulis Rose was Polish and Irish) bought the Skyrocket in the late 1940s; they sold the bar and the house next door to the Welshes in 1963. All seven Welsh children and their mother Barbara worked in the tavern at one time or another.
The Skyrocket's position next to the fairgrounds attracted a cast of characters few places in town saw.
"It was an education for all of us," said Scott Welsh. "The stories of the SkyRocket are legend, including visits from the Hell's Angels, dignitaries hanging out late night, and many 'disagreements' between patrons handled with flying fists."
My dad Pete ran a tight ship and was respected by most for not putting up with a lot of problems. He was smart in that he hired off-duty sheriff's deputies as his bar backs and doormen.

"There were many great characters that frequented the Skyrocket, and a few infamous ones. Sunday breakfast conversations between Mom and Dad usually consisted of a list of people who became 'barred,' and asked not to return. You could write a book just about the carnies who came in every year.

"I remember a guy named Studley Jefferies, who had formerly worked for the Busch family at Grant's Farm in St. Louis. He spent his later years working at the barns on the fairgrounds. Some of these people didn't have family, and my dad would invite them to Thanksgiving dinner, much to my mom's chagrin. He inherited a long-time bartender named Frank Ballog, who was a true gentleman bartender. He was missing an index finger and told me a girl bit it off when he tried to kiss her.
The SkyRocket featured mostly country-rock music with bands like Gail Day, Country Dawn, and other local groups.
"During Fair Week, there was always something happening," Scott Welsh remembered. "For many years, my dad Pete had his own beer truck in the parking lot. In about 1975, when I was 10 years old, I once hawked every space in the parking lot for $3 each. I thought I was rich, but Dad was so pissed I took all the spaces, he had smoke coming out of his ears!"
Pete Welsh, a professional baseball player who had been signed to a minor-league contract with the Washington Senators organization, met Barbara Bierbaum in 1956. He came to Springfield for the Jack Rossiter Baseball Camp, Scott Welsh said. "He rented a room from my great-aunt, Wanda Bierbaum, and met my mother on a blind date when she was 15."
The two continued to correspond, and Welsh returned to Springfield after having to give up baseball because of bursitis in his pitching arm. He and Barbara married in 1958, and Pete Welsh went to work at the Skyrocket the next week.
The Welsh family lived in the house next door to the tavern until the seventh child was born. They moved to Lake Springfield in 1968.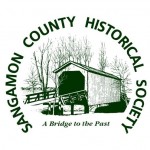 Thornton Oil purchased the land in the early 1990s. The Skyrocket site was a gas station in 2021.
Contributor: Sandy Baksys. Originally published on Lithuanians in Springfield, Illinois. Used by permission. Copyright Sandy Baksys.