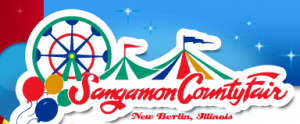 Corrected entry; see below — ed.
What essentially was the first Sangamon County Fair was an exhibition held Oct. 22, 1835, under sponsorship of the Sangamon County Agricultural Society. Winners at the first show were:
John Todd and J.M. Shackleford, best thoroughbred stallion, Pizarro
Robert Allen, best saddle horse, John Pacolet
Allen Quentien, best brood mare, Sally Nayler
John Crowder, best 3-year-old stud colt, Fox
Thomas Houghan, best 2-year-old filley, Isabelle
Asa Canterberry, best yearling stud colt, Tom
E. Iles, best cow and yearling heifer
J.M. Early, best bull calf, Pilate
W. Craig, best merino buck
John Canfield, best ewe
The shows, held on various area farms, continued until 1842 (apparently skipping 1838) and then ceased for a decade.
There seems to have been some trash-talking among exhibitors. Regular competitor Robert Allen wrote the following letter, which was published in the Oct. 22, 1841, edition of the Illinois State Journal (emphases in the original):
Sir: I feel bound in justice to the owner of the unequalled white Berkshire hog Sir Robert Peel, to say, that it was at my particular request that he did not contend for the premium for aged hogs, at the agricultural fair, which was held on the 13th and 14th inst. My reason for making the request of Mr. Bancroft was simply, that my black Berkshire hog … might have a fair shake in the ring with Cuff, whose owner had admitted  (my Berkshire) to be "a fine hog for one of his age, but that he would never be able to compete with Cuff." Hence I was anxious to show both to Cuff and his owner, "that some things could be done as well as others," and would doubtless have convinced him of that fact – had I been permitted to enter the ring.

I hope, Sir, you will publish this note with a list of the premiums awarded at our last fair, and very much oblige, your obdt. Servant,

ROBERT ALLEN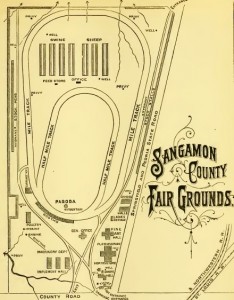 After 1842, the next county fair was held in more formal fashion in 1852, under the aegis of what now was the Sangamon County Agricultural and Mechanical Association. The fairgrounds was west of Springfield, on property that became Camp Yates during the early part of the Civil War (DuBois Elementary School  now occupies part of the property).
The Agricultural and Mechanical Association disbanded "for some cause" in 1869, according to the 1881 History of Sangamon County, Illinois. A new group, the Sangamon County Agricultural Board, took over county fair management  in 1871. Fairs were held annually at the board's 155-acre fairgrounds north of the city, formerly the site of the county Poor Farm (fairgrounds map, left, from the 1881 history).
When the Illinois State Fair decided in 1893 to hold its expositions in a single place instead of moving around the state, however, the county fair association offered its fairgrounds  as part of Springfield's bid. With the state fair's move to Springfield starting in 1894, annual county fairs were discontinued.
The county fair was revived in 1950 by the New Berlin Community Club, and the fair was held at New Berlin High School from 1950 to 1953. Thanks to a donation of land by the Pfeffer family, the fair moved to its own grounds in 1954. The Sangamon County Fairgrounds  now takes in 30 acres and nine buildings.
Correction note: An earlier version of this entry was based on the 1881 county history, which repeated an 1881 Springfield Monitor  article in which Major Arny Robinson (1807-85) claimed the 1837 fair was the first. Robinson told the Monitor he had been secretary of that fair. In fact, the Oct. 14, 1837, Journal report of fair prizewinners lists J.M. Shackleford as secretary. (Robinson's title of "Major" came from his rank with an early militia company; he served as an acting commissary at Camp Butler during the Civil War and later was custodian of the federal building.)
Thanks to Linda Garvert (see comment below) for correcting our errors.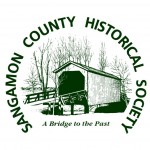 Original content copyright Sangamon County Historical Society. You are free to republish this content as long as credit is given to the Society. Learn how to support the Society.