Theophilus "Moonlight" Waldron was a 15-year-old orphan, living on the streets and by his wits, when he stabbed to death a man over a game of mumblety-peg. Waldron (1874-?) was sentenced to life in prison for murder, a judgement many local residents saw as unjust and perhaps racist.
Three years later, Gov. Joseph Fifer agreed and pardoned Waldron.
The Illinois State Journal reported the stabbing death of George "Scottie" Murray in its July 8, 1889 edition. The Journal's lengthy story also laid out the pathetic details of Waldron's life.
The killing took place July 7 on the lawn of what today is the Old State Capitol.
"The trouble originated over a game of 'mumble-the-peg,' which several white and colored boys were playing in the County Court House yard," the paper said. "The stranger (Murray) watched the game for a few minutes and got into a controversy with the colored boy, 'Moonlight,' who thrust a knife into him and fled to Camp Lincoln."
Moonlight is a street waif and has led a checkered career in this city for seven or eight years. His mother and the late Reuben Ross, who were slaves, lived in the South as man and wife before the war and were sold and parted by their master. His mother married a man named Waldron and lived in Louisiana, Mo.

Here it was that Theophilus and his twin brother Theodore were born, in May 1873. Mrs. Waldron, with her twin boys, moved to Springfield after the death of her husband, and the other boy was killed in June 1886 at Jacksonville junction while stealing a ride from Springfield on an excursion train. … Mrs. Waldron died a few years ago, leaving this boy to shift for himself. …

Moonlight spent his time blacking boots and working about lunch counters, for which he seems to have an aptitude. He has been employed several times in restaurant kitchens and is given a very good recommendation as a cook by those who are familiar with his work. He is described as a good "short-order" cook. This seems to mean that he was handy for small jobs, such as cooking eggs, frying ham, making oyster stews and similar dishes.

Moonlight was also a professional "mascot." He went to Olney with the Sons of Veterans and was with the boys at the previous annual encampment. He was also a follower of Co. A of the Fifth regiment, Illinois National Guard, and accompanied them on their trips.

Besides all this Moonlight was attached to one of the local bands and always went with them when permitted, and he was one of the many mascots of the Springfield club of the Interstate (baseball) league. His business at the ball park was to take care of the bats and "hoodoo" the visiting clubs. In this his work appeared evident about every other day.
"Moonlight did not make a model pupil of the public schools, but was in trouble over various matters nearly all the time," the Journal reported. At one point before Theodore died, the Waldron twins worked out a way to avoid going to school, telling teachers their mother had moved the family out of the district. ("The teachers felt much relieved and saw them go with pleasure," the newspaper said.) Mrs. Waldron, whose first name wasn't reported, learned of the scheme only at the end of the term, when she went to school to check on her sons' progress.
Theophilus Waldron was a tough kid, the Journal said, quoting a friend who called him "an all-round scrapper." However, according to the story, "Those who profess to know him well assert that he was not bad if unmolested."
Murray, a plumber, had arrived in Springfield only three days before he was stabbed – some newpaper stories called him a "tramp."
July 7 was a Sunday, and Murray, like the group of teenagers, was idling on the courthouse grounds. He had started to watch Waldron and several other bootblacks play mumblety-peg, which involves tossing knives into the ground, when a younger boy joined the game.
One of the other bootblacks, Herman Gaa, described the stabbing to a coroner's jury a few hours later.
This man said he would bet a nickel that the smallest boy would win, which made Moonlight angry. He jumped up and said something about the man being or getting awful smart, upon which the man rolled the boot-black on the grass once or twice, just in fun. Moonlight jumped and made a move at, or said something to him, upon which the man kicked at the colored boy. Moonlight then ran and hit him on the left breast.
Waldron admitted to the Journal in a jailhouse interview that he'd struck at Murray with his knife. Murray hit him twice in the head and kicked at him, Waldron said, so he "'trun (sic) the knife at him and then I skipped." Waldron said he didn't think Murray was seriously injured.
Murray also didn't realize at first how badly he'd been hurt, coroner's witnesses said. However, Waldron's knife pierced Murray's heart, and he died a few minutes after the confrontation.
Waldron, meanwhile, made his way with no particular urgency to Camp Lincoln, one of his regular haunts. He was arrested there a few hours later.
When Waldron went on trial in November, most of the spectators were street kids, the Journal said. "The gallery was soon filled, mostly with boys who were too short to look over the shoulders of their taller brothers on the floor below. … they all appeared to want to get a view of 'Moonlight' and to hear the tale of his murderous deed."
Testimony in the trial mostly repeated the stories told to the coroner's jury. Waldron himself said again that he hadn't intended to kill Murray.  "I thought he might have some deadly weapon, and I wanted to defend myself," he said.
At other points during the trial, however, Waldron didn't take it seriously, smiling at friends and seemingly not paying attention. He even bet a deputy sheriff a box of cigars that he would be convicted and sentenced to 20 years or more in prison; the deputy had speculated on a 10-year term.
That attitude may have influenced the jury. Jurors took nearly 12 hours to reach a verdict, but the debate apparently wasn't over guilt or innocence. It was over whether Waldron should be put to death or sentenced to life in prison (the jury, not the judge, was responsible for imposing sentence).
It was a near thing – at one point, according to the newspapers, the vote was 10-2 for the death penalty. Finally, though, jurors settled on life in prison.
Public reaction to the sentence was quick and mostly negative.
"The sentence is generally regarded as a severe one, considering the age of the defendant and the circumstances attending the stabbing," the Illinois State Journal said in its story. "The colored people set about Saturday to raise money to defray the expenses of a new trial."
The Journal's editorial page went further.
The verdict of the jury in the 'Moonlight' murder case is barbarous in its severity. It cannot be called a punishment of crime for the sake of reformation; on the contrary, its severity arouses a suspicion of persecution of a friendless unfortunate. …

It is true that "Moonlight" struck Murray a blow which resulted in his death; but it does not seem just to hold this almost irresponsible boy responsible for such premeditated murder as requires the infliction of a life sentence.
(Not everybody disagreed with the sentence. The Illinois State Register editorial page, which tended to be racist at the time, commented that Waldron "struck down a fellow being with his murderous knife without much provocation. … He is evidently a bad one.")
In his petition for a new trial, Waldron's court-appointed lawyer, S.H. Cummins, charged that at least two of the jurors were prejudiced against Waldron before the trial. One of the two, Walter Campbell, allegedly told two acquaintances that if he was chosen for the jury "it would go hard with the d—-d n—–." (In a sign of the times, the Register's story expurgated the word "damned," but not the racial insult.)
Judge Jacob Fouke declined to order a retrial, and Waldron was taken to the Joliet state penitentiary.
The sentence, however, festered in Springfield, and in 1892, local residents led by Cummins, attorney John C. Snigg and alderman/gambler Evan "Tom" Brewer convinced Gov. Fifer to pardon Waldron. Among those who signed on to the effort were Fouke and Sangamon County State's Attorney Noah Turner.
In his pardon statement, Fifer wrote:
Waldron was only fifteen years of age, without money or friends, and was unable to employ counsel to defend him. It is believed that he had no intention of killing or even hurting the deceased, but merely to warn him to keep away. His pardon is strongly urged by a number of good citizens and the judge who presided at his trial.
A happy ending for "Moonlight" Waldron? Not quite. Waldron visited Springfield briefly following his release, but then moved away. He was mentioned in Springfield newspapers only once after that, in stories published March 25, 1919. Here is the Journal's version (which spelled Waldron's first name differently and gave the wrong date for his Springfield trial):
Theopolis Waldron, alias "Moonlight," convicted in Springfield in 1887 on a charge of slaying a boy in the court house yard, is now a prisoner in the Joliet penitentiary on a charge of murder and has applied to the state division of pardons and paroles for commutation of sentence. Waldron served several years for the local killing and went to Freeport to live after he was paroled. He shot and killed a man in that city and is now serving his fifth of a fifteen-year sentence.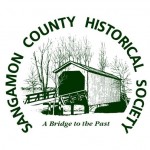 The results of his petition and what happened to Waldron after that are unknown.
Original content copyright Sangamon County Historical Society. You are free to republish this content as long as credit is given to the Society. Learn how to support the Society.