One of the more popular attractions at the Illinois State Military Museum in Springfield is the artificial leg that belonged to Mexican General Antonio Lopez De Santa Anna, conqueror of the Alamo. The limb was captured during the battle of Cerro Gordo during the Mexican-American War.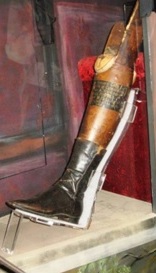 The general had to abandon his carriage when his forces were overtaken on April 18, 1847, by members of Company G of the Fourth Regiment of Illinois Volunteers.  He left behind the leg, a half-eaten chicken lunch, and $18,000 in gold.
Accounts tend to agree that the troops finished off the chicken and handed over the money to their commander. The troops took the leg home as a souvenir. They displayed it — inscribed with the words, "General Santa Anna's cork leg, captured at the Battle of Cerro Gordo, Mexico, by Private A. Waldron, First Sergeant Sam Rhoades, Second Sergeant John M. Gill April 18, 1847, all of the Fourth Regiment, Illinois Volunteers of the Mexican War" — around the state, charging the curious for a peek. The leg was finally donated to the state in 1922 and was stored for years in the Illinois State Arsenal with other military memorabilia.
Such undignified treatment prompted the government of Mexico to request that the leg be returned to that nation. Springfield chili impresario Joe DeFrates, who competed for years in the annual World Series of Chili Cooks in Terlingua,Texas, told a State Journal-Register reporter in 1971 that he once was asked to bring the leg with him to Texas so it might returned. DeFrates reportedly obliged his hosts with a photo of the leg instead.
The television cartoon series King of the Hill in 1998 ran an episode based on the incident, titled "The Final Shinsult," in which the Mexican government secretly plotted to kidnap the leg and smuggle it home.
Today the device is the centerpiece of a military museum diorama recreating the moment of its capture.
Original content copyright Sangamon County Historical Society. You are free to republish this content as long as credit is given to the Society. Learn how to support the Society.