Mack and Frank Shelby, ages 27 and 29, respectively, bought a lot at the southwest corner of Third and Washington streets in 1826, according to the Early African American Population of Springfield Illinois by Richard E. Hart (2008). Mack was married to Mary Shelby.
As of 1828, John Todd Stuart remembered later, the lot was the site of a log cabin that was the residence of Polly Shelby, "a colored woman and family." The site is identified as No. 31 on the reconstructed map of 1828 Springfield.
Mary Shelby filed for divorce from Mack Shelby in 1841, employing Abraham Lincoln as her lawyer. Mary characterized Mack as a habitual drunkard, according to Hart, but she later dismissed the case, and Mary and Mack were listed in the 1850 census as husband and wife.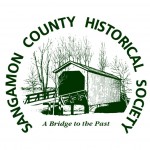 Original content copyright Sangamon County Historical Society. You are free to republish this content as long as credit is given to the Society.