"(W)hen coaches, players or spectators recall 1931 to their grandchildren, they'll call it the Tournament of the Big Snow," Illinois State Journal sports editor Bob Drysdale wrote of the 1931 boys district basketball championships.
A blizzard – 14 inches of snow, the most since 1900 – disrupted the district playoffs throughout central Illinois that year. District tourneys, the first step on the road to the state championship, had been scheduled for March 6-7.
Five area districts postponed their playoffs because of the blizzard. Others went on, but faced unusual obstacles. Divernon players, for instance, had to push 13 stalled cars off the road on their way to the Springfield district tournament (where they lost the third-place game, 23-17, to Edinburg).
The Jacksonville district, hosted by the Illinois School for the Deaf, included two teams from Sangamon County, New Berlin and Pleasant Plains. New Berlin defeated Palmyra the afternoon of March 6. Players then went home.
On the morning of March 7, however, New Berlin (coached by J. V. Kirby and led in scoring by Theo Knust, who averaged 13 points per game) had to turn back halfway to Jacksonville. Kirby couldn't get to a phone fast enough to tell tourney officials of the problem, and ISD won its semifinal game over New Berlin by forfeit.
Pleasant Plains took a different approach. After beating Modesto March 6, the Plains squad stayed in Jacksonville overnight – presumably, with the players and coaches sleeping in the gym on cots or bleachers. The next day, Plains defeated Winchester in the semifinals, but lost the district championship to ISD, 22-18.
Troubles still weren't over for the Plains team, which was coached by Hugo Lindquist (he would become the first basketball coach at Lanphier High School in Springfield when that school opened in 1937). Roads home to Pleasant Plains were still blocked the evening of March 7, so the Plains contingent stayed in Jacksonville another night.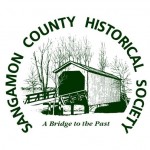 Finally, on Sunday, March 8, the team was able to board a snowplow-equipped Chicago & Alton passenger train, which took them to Ashland. Some found shelter there. According to the Pleasant Plains Argus newspaper, however, a few people – a player or two and a couple of fans, at least one of them a girl – walked home, 4½ miles along the Baltimore & Ohio railroad track, to Pleasant Plains.
Footnote: Both rail lines were abandoned many years ago.
Contributor: Phil Shadid
Original content copyright Sangamon County Historical Society. You are free to republish this content as long as credit is given to the Society. Learn how to support the Society.