Updated: See "The case for Elmer Ellsworth," below.
The first Sangamon County resident to die as a result of combat in the Civil War was a carpenter from Springfield. Heaton Hill, about 28, was shot during the siege of Lexington, Mo., on Sept. 18, 1861 and died a month later.
According to his obituary in the Illinois State Register, Hill moved to Springfield from Pennsylvania in the early 1850s. Aside from his carpentry work, Hill was active in the local chapter of the International Order of Odd Fellows, a prominent fraternal organization. Hill served as the group's recording secretary in 1857.
Hill also joined the Yates Dragoons, a cavalry unit that probably was formed shortly after the attack on Fort Sumter in April 1861. The unit presumably was named after Illinois Gov. Richard Yates, a Republican who took office the preceding January.
The Yates Dragoons were among a number of impromptu military units formed throughout Illinois when the war started. Some had been created even earlier. For instance, the Springfield-based Zouave Grays began as a largely ceremonial militia about three years earlier. When the Union Army organized itself in 1861, the Zouaves were incorporated as Company I of the Seventh Illinois Infantry.
A similar process happened with the Yates Dragoons. Most of the dragoons were Springfield residents, although a sizable minority haled from Quincy.
Illinois Adjutant General Thomas Mather issued General Order No. 111 on June 21, 1861.
The several companies of cavalry hereinafter designated, which have been accepted by the president of the United States, will rendezvous at the following named points on or before the 3rd day of July, 1861: …

Bloomington Cavalry, Captain J.B. McNults; Yates Dragoons, Captain John Burnap; White County Cavalry, Captain Orlando Burrell; Gallatin County Cavalry, Captain James Foster – at Alton. …

The officers commanding companies will march their respective commands to the place of rendezvous, by the shortest wagon route, and upon receipt of this order will immediately advise this department of the time at which their companies will leave for the points above designated.
The order also spelled out how the unit was to be equipped. In particular, every member, from the commander down to the blacksmith, was to provide his own horse, "in the selection of which care should be taken to procure them of as near a uniformity, in color and size, as possible."
The Yates Dragoons were mustered in as Company F of the 1st Illinois Cavalry Regiment on July 17 at Alton. (The company's full roster, both original and later, is here; Heaton Hill is listed as a corporal.) The regiment was deployed to central Missouri.
In mid-September, the 1st Illinois and other Union detachments under Col. James Mulligan were surrounded by a much larger Confederate force at Lexington, Mo. Mulligan's command held out for about 10 days, in a siege known as the Battle of the Hemp Bales, but finally was forced to surrender. Camilla A. Quinn described the aftermath in her monograph, Lincoln's Springfield in the Civil War.
Fortunately, the Springfield prisoners were allowed to return home, but before their captors released them, they were required to stand in rows, raise their right hands, and swear not to serve again during the war. When they returned to Springfield a week later as the first Springfield company to have actually fought the Rebels, they were "quite the heroes of the day." The Journal noted that "wherever you see a knot of people gathered on the street listening eagerly to a recital from some rough-looking man … you may be certain that a brave soldier is fighting the siege over again to an admiring audience."
Corp. Heaton Hill, however, never made it home. Shot in the thigh Sept. 18, he was one of three Springfield soldiers wounded in the fight. Hill died in a St. Louis hospital on Oct. 14. Another member of Company F, James Palmer of Quincy, was fatally wounded the same day. Hill and Palmer were the company's only combat deaths.
According to his Register obituary:
Mr. Hill was one of our most estimable citizens, a carpenter by trade, who came here from Pennsylvania, some ten years ago, and during that period earned a high character for probity, industry and business habits. He was among the first to enlist in the country's cause, and the general voice of his comrades is, that he was a true man and sturdy soldier.
The returned Yates Dragoons joined the Springfield IOOF in conducting funeral ceremonies for Hill on Oct. 16. He is buried at Oak Ridge Cemetery.
Added: The case for Elmer Ellsworth
On Facebook, reader Ron Davis raised a good question, one SangamonLink should have addressed in the first draft of this entry: Should Elmer E. Ellsworth, whom Wikipedia calls "the first conspicuous casualty and the first Union officer to die in the Civil War," be considered a Springfield resident? Ellsworth, a close friend of Abraham Lincoln, was killed in Alexandria, Va., on May 24, 1861 – obviously, well before the death of Heaton Hill.
Ellsworth did live in Springfield for perhaps six months in late 1860 and early 1861. "Mr. Lincoln and Friends," a website sponsored by the Lincoln Institute and Lehrman Institute, describes Ellsworth's activities during the period.
In the late winter of 1860 Ellsworth had received a letter from General John Cook expressing Mr. Lincoln's interest in having Ellsworth relocate to Springfield. Ellsworth had written his fiancé that "Mr. Cook told me that Mr L – especially desired him to leave no means unturned to induce me to come to Springfield." In early autumn, Ellsworth left the Chicago Zouaves and relocated to Springfield to finish his legal studies in the Lincoln-Herndon law office. But instead, Ellsworth seems to have been primarily employed in giving Republican campaign speeches and became "one of the most popular speakers known to the schoolhouses and barns of Central Illinois," according to John Hay. According to biographer Ruth Painter Randall, "During these days in Springfield from September 1860 to February 1861, Ellsworth was seeing Lincoln constantly and their friendship had become, to use Lincoln's own word, 'intimate.' The whole Lincoln family adopted him as one of their own."
Ellsworth, though only in his early 20s, previously helped organize military units in Chicago and Rockford (those early units were primarily ceremonial), and he served as commanding officer of Chicago's National Guard Cadets.
Similarly, in Springfield, an Illinois State Journal article shows Ellsworth was elected colonel of the 20th Regiment of the Illinois State Militia in October 1860. (John Cook, who wrote the letter to Ellsworth that contained Lincoln's invitation, was named lieutenant colonel.) A separate article on the same page listed Ellsworth's speaking schedule for Oct. 24 through Nov. 3 – 10 speeches in 10 different Sangamon County towns over 10 days. The election was Nov. 6.
Ellsworth left Springfield with Lincoln on Feb. 11, 1861. After the president called for volunteers to quell the rebellion, Ellsworth organized the 11th New York Volunteer Infantry Regiment (known as the "Fire Zouaves") from New York City's volunteer firefighters. Once again, Ellsworth was named commanding officer.
The Fire Zouaves helped take over Alexandria on May 24, 1861. When Ellsworth tore down a large Confederate flag flying above a local inn, the innkeeper shot and killed him.
While Ellsworth was certainly active during his few months in Springfield, there's no indication he had any roots in central Illinois. When he died, local papers mentioned his sojourn here only in passing, although the Journal did suggest that an army camp near Decatur be named after him.
Ellsworth came to Springfield solely to work with and for Abraham Lincoln and left with Lincoln. He was leading a New York regiment when he died, and the National Park Service's Civil War database lists his "location" as New York. Ellsworth is buried in his hometown of Mechanicsville, N.Y.
By contrast, Heaton Hill had lived in Springfield for a decade, participated in its civic life and died serving in a Springfield-based cavalry company. He evidently intended to return here if he had survived the war, and he is buried in Springfield. While the question is open for debate (and should have been raised when this entry was first published), SangamonLink still takes the position that Heaton Hill deserves the distinction of being the county's first Civil War combat fatality.
Hat tip: Thanks to Ron Davis for inspiring this discussion of Elmer Ellsworth.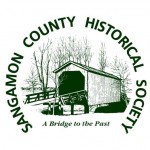 More information: Lincoln's Springfield in the Civil War by Camilla A. Quinn, published as part of the Western Illinois Monograph Series by Western Illinois University in 1991, is a fascinating look at Springfield between the start of the war and the burial of Abraham Lincoln. The full text is available via archive.org.
Original content copyright Sangamon County Historical Society. You are free to republish this content as long as credit is given to the Society. Learn how to support the Society.