The Rev. Francis Springer (1810-92) is considered the father of Lutheranism in Springfield. A service he held in his home in 1841 led to the founding of the first Lutheran congregation in the city. That church later evolved into both Grace Evangelical Lutheran Church (the English congregation) and Trinity Lutheran Evangelical Lutheran Church (the German church).
Springer volunteered as a chaplain during the Civil War, spending much of his time at Fort Smith, Ark. (His diary, edited by Bill Furry, was published in 2001 as The Preacher's Tale: The Civil War Diary of the Rev. Francis Springer, Chaplain U.S. Army.)
While at Fort Smith, Springer threw himself into helping families made destitute by the war. His efforts, Furry says, resulted in hundreds of orphans from Arkansas and Missouri being routed through Springfield's Home for the Friendless for permanent placements. (Although some sources suggest Springer was instrumental in creating the home, Furry notes that he was in Arkansas when the home was founded in 1863; his role in its founding "is speculative at best," Furry said.)
A May 1863 Illlinois State Journal article, quoted in Trinity Lutheran's biography of Springer, described the arrival of a group of Arkansas refugees:
Objects of Charity—The families of Arkansas refugees who have been driven from their homes by the fiendish rebellion arrived in this city last night on the Chicago, Alton & St. Louis R.R. in a most destitute condition. They were met at the depot by some charitable citizens and furnished with temporary shelter and some food given them. We are informed they presented a most pitiable sight, emaciated and ragged. They are fit objects of charity for such of our citizens as exercise that Christian virtue. Money or articles of food or clothing left at the store of John Williams & Company will reach these poor unfortunates.
Springer also was a teacher, ultimately serving as both Springfield school superintendent and Sangamon County school commissioner.
In addition, he headed a Lutheran-backed college in Hillsboro and Springfield from 1847 to 1855. In Hillsboro, the school's full name was the Literary and Theological Institute of the Evangelical Lutheran Church of the Far West, although it often was known as simply Hillsboro College. After the institution was moved to Springfield in 1852, the name was changed to Illinois State University. It had an eight-acre campus in northeast Springfield.
The college moved from Springfield to Carthage, Ill. in 1870 (Carthage College now is in Kenosha, Wis.). The Springfield campus later became Concordia Lutheran Seminary and then the Illinois Department of Corrections Training Academy.
Springer and his family – wife Mary and eight children – lived at Eighth and Jackson streets, across Jackson Street from the family of Abraham and Mary Lincoln, for several years in the 1840s.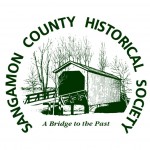 Original content copyright Sangamon County Historical Society. You are free to republish this content as long as credit is given to the Society. Learn how to support the Society.